The future network is software-defined: Prepare your WAN now
In this concise podcast, John Burke of Nemertes Research covers the top dos and don'ts for implementing SDN in the WAN. His concise advice will better prepare you and your network for an SDN age.
In this podcast, John Burke of Nemertes Research considers the future network and offers top three dos and don'ts for implementing SDN in your WAN.

Download this free guide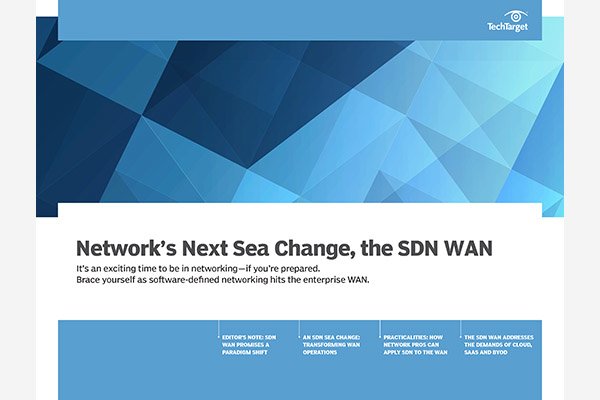 How SDN is Transforming WAN Operations: Free Handbook
Access our handbook now to navigate the waters of SDN in the WAN, with tips on overcoming implementation challenges, use cases for SD-WAN, and how to adjust to the altered network engineering career prospects that result.
Burke's no. 1 do is to use the next year to 18 months to explore. Now is the time to get educated, he says: learn the basic concepts, look at what your favorite vendor is doing (especially with OpenFlow), maybe even build a test lab.
Top of Burke's don't list? Ignoring SDN. SDN is going to happen -- so do you want to be playing catch-up a year from now, or rolling smoothly into SDN implementation in your WAN?
Listen to this podcast and you'll come away with a concise and actionable to-do (and to-don't) list, and be better prepared to help your network join the SDN age.
About the speaker: John Burke is a principal research analyst with Nemertes Research, where he advises key enterprise and vendor clients, conducts and analyzes primary research, and writes thought-leadership pieces on virtual networks and software-defined networking (SDN) technologies, standards and implementations, and more.