Pixelbliss - Fotolia
Get started
Bring yourself up to speed with our introductory content.
The ultimate life-hack: Start your own SDN hackathon
Seeking skills in network programmability? Attending an SDN hackathon may be the best bet. And if you can't find one, why not organize your own?
Sometimes it takes an Apollo project to change the world -- hundreds of thousands of engineers, machinists and experts from every industry, working together in an accelerated program with a tight deadline and massive funding.

Download this free guide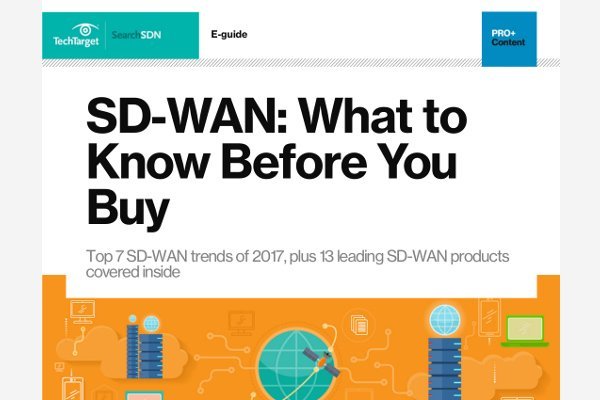 SD-WAN Buyer's Guide: What to Know Before You Buy
In this two-part guide, analyst Lee Doyle reveals the top 7 SD-WAN trends to watch for this year, and our editors compare 13 leading SD-WAN products in one handy infographic to help guide your purchasing decision.
Fortunately, pushing into SDN does not require so much. All the metallurgy, software and technology are being developed by vendors that are increasingly eager to get you on board. The only Apollo components you need to emulate are a tight deadline, a room full of smart people and a few experts. We have a simple name for that in the programming biz: a Hackathon.
There are some enterprises that have the sheer size (i.e., Google, Facebook and Amazon) to semi-regularly host their own events. It's not out of kindness. If a single participant comes up with something innovative, it could save millions or provide a competitive advantage for the company. But if you're not at a company with management inspired to host an event, or simply aren't large enough to anchor an event, there are still plenty of great ways to participate.
SDN hackathons aplenty
Sponsored hackathons get juice because they focus on technologies -- like SAP, SalesForce, connected-home or Internet of Things -- that can't be ignored . It's only natural that these events tend to get decent backing from Adobe, Microsoft, HP, Intel, Samsung and increasingly Red Bull (I take this as a nod to cultural legitimacy and reach, not simply caffeination).
A cursory search just before Halloween returned at least 30 SDN- or network programmability-focused regional events in November and December. All but one was open to anyone, with perquisites being either college enrollment or current admins with a cert (from Cisco, Microsoft, VMWare, RSA or others). Google is your friend here and if you want a deep-dive weekend with experts to really kick-start your exposure to SDN, public Hackathons are a great way to start.
Need help starting an SDN hackathon?
If you're part of an organization looking to show some thought leadership, or you just have a group of friends with broad enthusiasm to participate in a hackathon, you can start new events by turning to a hackathon organization like HackerNest (or many others).
These organizations are generally non-profits and are in the business of taking care of the details of getting an event off the ground. Some create events that are funded with fees, while others work on sponsorships, ultimately rolling up in trucks to create a mini-vendor forum at the event.
The nice part of this approach is that you can tailor the content specifically around any aspect of SDN that you think is likely to draw a crowd
I'm determined to put together the Network Armadillos Rodeo 2015 in Austin.
How to roll your own SDN hackathon
If you're really motivated -- and really organized -- then you might consider hosting your own hackathon, perhaps in collaboration with a couple other groups.
It's not as difficult as you think -- you're not hosting CiscoLive. The foundation rules must be: Start planning really early, and don't accept critical team members who don't truly have time to contribute. An eager freshman help desk jockey will be more helpful than a VP with amazing knowledge and a matching frequent business travel schedule. You'll need boots on the ground.
As with planning any event, stick to the basics:
Make sure your intended outcomes are realistic and achievable. Don't expect everyone in the event to walk away from the hackathon with ninja skills. Also, prepare at least a couple of sessions to provide choice and interest to drive attendance. You don't have to build tracks and, in fact, you can even throw up an early abstract and get feedback before committing to the detailed planning for each section.

Ensure reliable and plentiful hardware and power. This seems like a great place for sponsors to step in, but the infrastructure --like everything with IT --will make or break the event. Even if you're not fortunate enough to have a half-rack of OpenStack or VMware NSX on hand, at a minimum, you're going to need to ensure good Wi-Fi and rows of outlets for device chargers. A quality PA system won't hurt either.

Get Sponsors. Vendor sponsors may be especially attracted to a smaller venue with a very niche attendee base. But within that, you can provide controlled access for sponsors. Attendees will expect some marketing from your sponsors, but you should make sure vendors are not just presenting a 45 minute pitch deck. Hackathons are about thought leadership and vendors want to create relationships that drive sales over the long haul, not just close a little business after the event.

Encourage attendees to build on what they already know. We have been managing our networks successfully for decades (yes, even under NetWare). We've used network performance monitoring, traffic and event monitoring and configuration management software successfully for years. These provide common touchstones as we move into the world of ultra-complex programmable networking. Sessions that draw on these common skills and then extend them will get SDN Hello World projects off the ground fast. It also helps admins learn how to adapt their current analytics and alerts for SDN.
Have fun!
There's one extremely effective way of asking your manager for time off to attend a hackathon – essentially, it's explaining that you're getting nearly free training. Once you get the time off, have fun!
These events aren't Burning Man -- there won't be fire-breathing art cars, but there will be lots of geeks and the opportunity to learn in an immersive environment. Once you're there, it'll get the blood pumping again in parts of your CPU that have been a bit stuck in a rut. You might even return transformed, with a couple of wizard skills.
About the author:
Patrick Hubbard is a head geek and senior technical product marketing manager at SolarWinds, with 20 years of technical expertise and IT customer perspective. His networking management experience includes work with campus, data center, high availability and disaster recovery, and storage networks, as well as with VoIP, telepresence and VDI in both Fortune 500 companies and startups in high tech, transportation, financial services and telecom industries. He can be reached atPatrick.Hubbard@solarwinds.com.
Dig Deeper on SDN certification, skills and careers