alphaspirit - Fotolia
News
Stay informed about the latest enterprise technology news and product updates.
Viptela users can monitor SD-WAN architecture with SevOne
Viptela has partnered with infrastructure performance monitoring software vendor SevOne, integrating the SD-WAN company's platform with SevOne's management dashboard.
Viptela Inc. has integrated its SD-WAN architecture with SevOne Inc.'s digital infrastructure management platform. The combined offering is intended to allow large network and data center operators to monitor Viptela's Secure Extensible Network, or SEN, via a SevOne dashboard. The two companies said this integration will simplify network management and cut costs.

Download this free guide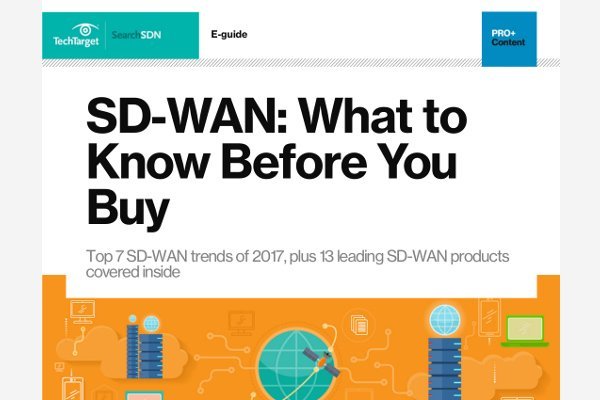 SD-WAN Buyer's Guide: What to Know Before You Buy
In this two-part guide, analyst Lee Doyle reveals the top 7 SD-WAN trends to watch for this year, and our editors compare 13 leading SD-WAN products in one handy infographic to help guide your purchasing decision.
By submitting your personal information, you agree that TechTarget and its partners may contact you regarding relevant content, products and special offers.
You also agree that your personal information may be transferred and processed in the United States, and that you have read and agree to the Terms of Use and the Privacy Policy.
According to Viptela, SevOne monitoring software collects real-time information about an enterprise's SEN SD-WAN architecture via the Viptela vManage application. That information then appears in the SevOne dashboard, alongside data about the rest of the organization's digital infrastructure -- giving operators a comprehensive, unified view.
"As enterprises leverage software-defined infrastructures and networking to solve business-critical challenges, they require a current and complete view of their infrastructure and the services it supports to ensure performance and, at all costs, avoid service outages," said Jim Melvin, chief marketing officer at SevOne, based in Boston.
Lee Doyle, principal analyst at Doyle Research, based in Wellesley, Mass., said as a leading SD-WAN startup, Viptela has faced growing demand for improved management capabilities. With thousands of customers, he added, Viptela needed to expand its ecosystem beyond just its own SD-WAN architecture.
"SevOne is a small, but interesting technology," Doyle said. "Viptela customers who want to have a more robust management capability than Viptela currently offers have an opportunity to use SevOne," Doyle said.
Doyle said the Viptela-SevOne partnership is further evidence that software-defined networking is gaining steam -- especially when it comes to SD-WAN architecture -- and impacting the broader IT market.
Dig Deeper on SDN companies