SSilver - Fotolia
News
Stay informed about the latest enterprise technology news and product updates.
Cisco acquires SDN services partner Embrane
By acquiring partner Embrane, Cisco cements the company's SDN services technology into the networking giant's platform for building software-defined data centers.
Cisco's acquisition of software-defined network services vendor Embrane will give Cisco control of key orchestration software that companies can use to build more flexible networks within their data centers.

Download this free guide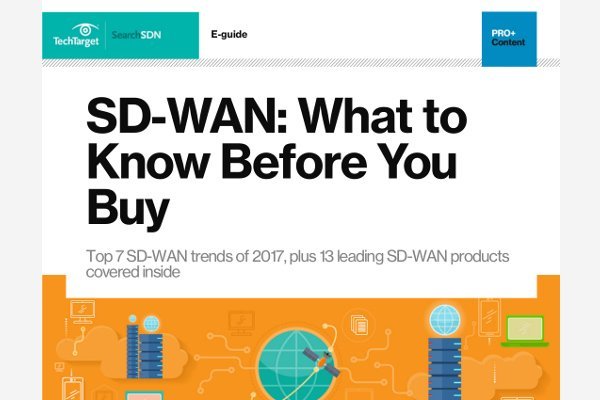 SD-WAN Buyer's Guide: What to Know Before You Buy
In this two-part guide, analyst Lee Doyle reveals the top 7 SD-WAN trends to watch for this year, and our editors compare 13 leading SD-WAN products in one handy infographic to help guide your purchasing decision.
Cisco announced this week that it will acquire Embrane for an undisclosed amount. The deal is expected to close by the end of April.
Cisco has used Embrane technology since 2014 in its software-defined networking (SDN) platform called Application Centric Infrastructure (ACI). The partnership let ACI customers manage Layer 4-7 network services provided by Cisco or third-party vendors like Citrix Systems and A10 Networks.
The acquisition "seemed inevitable" given the history of the two companies, IDC analyst Brad Casemore said. Besides the partnership, Cisco was an investor in Embrane and its founders, chief executive Dante Malagrino and chief technologist Marco Di Benedetto, had worked for Cisco in data center networking.
Embrane addresses complex policy operations
Embrane tackles a growing problem faced by companies implementing SDN to create networks capable of adapting to constantly changing software in virtualized data centers.
'If Embrane is integrated properly into ACI, then it's all more automated.'

Shamus McGillicuddyEnterprise Management Associates
Many applications use custom configurations of Layer 4-7 services like load balancing, virtual private networks and firewalls. When the service software or application changes, network engineers are left with the arduous task of reconfiguring policies and other settings. They have to use the separate management tools of each vendor in the SDN environment.
"It's like a fractured operational process," Shamus McGillicuddy, analyst for Enterprise Management Associates, said.
Embrane's orchestration software called the Elastic Services Manager reduces the complexity by saving configurations so they can be reused when an application is moved or changed. In addition, all management and orchestration chores are handled through the Embrane console.
"If Embrane is integrated properly into ACI, then it's all more automated," McGillicuddy said. The Embrane console also monitors the use of vendors' software, so companies can stay within licensing terms.
Embrane benefits for Cisco customers
Once the acquisition is completed, Cisco will have control of technology that could entice other vendors into providing products as extensions of ACI, IDC's Casemore said.
"It's a valuable capability to add to the ACI arsenal," he said.
Whether Cisco can build a larger SDN ecosystem than rivals like VMware and Juniper Networks remains to be seen. While Embrane's open approach to orchestration is unique, only early SDN adopters are ready to use it. Most enterprises are just starting to understand SDN's value.
But most like what they see. Nearly 80% of large U.S. companies plan to implement SDN technology in 2017, according to Infonetics Research, a unit of IHS Inc. If that prediction proves true, then demand for management software will increase, and other vendors will provide technology that competes with Embrane, McGillicuddy said.
"With Embrane, Cisco has a head start," he said.
Dig Deeper on Layer 4-7 network services