News
Stay informed about the latest enterprise technology news and product updates.
SDN blogs: Facebook SDN; overlays; do you need to code?
SDN bloggers discuss why they're spending time on coding, Facebook's SDN, and if OpenFlow is the best for overlay virtual networks.
SDN bloggers discuss why they're spending time on coding, Facebook's SDN controller and bare-metal switches, and if OpenFlow is the best for overlay virtual networks.

Download this free guide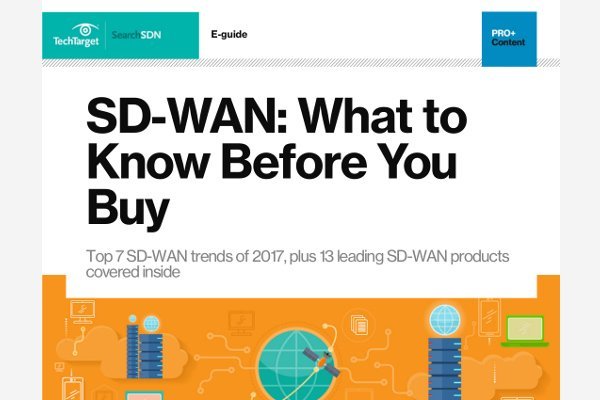 SD-WAN Buyer's Guide: What to Know Before You Buy
In this two-part guide, analyst Lee Doyle reveals the top 7 SD-WAN trends to watch for this year, and our editors compare 13 leading SD-WAN products in one handy infographic to help guide your purchasing decision.
Why spend time on automation platforms and coding?
On his personal blog site, network engineer Jason Edelman stepped away from digging in to the details of SDN technology and took a minute to explain why he's focusing on automation platforms, coding and open source. Edelman explained the need for continuous learning in today's networking landscape and outlined why engineers should consider programming, but also pointed out that it won't be necessary for everyone.
Check out Edelman's full post exploring the importance of open source, coding and automation platforms.
SDN controllers and bare-metal switches at Facebook
On his Ethereal Mind site, author Greg Ferro took a look at an article on Data Center Knowledge that explains how Facebook is scaling its SDN by using a combination of Border Gateway Protocol (BGP) at the edge for path discovery and centralized SDN control for path selection. This design allows SDN to scale to a network the size of Facebook's with a much higher rate of network utilization, and lower CapEx and operational overhead. Ferro ended his post by writing that he believes this BGP SDN approach is resulting in the controller directly managing some percentage of flows, while data follows policy routing implemented over BGP.
Take a look at Ferro's overview of SDN controllers and BGP at Facebook.
What to know when deploying SDN overlays
On the Gartner blog site, Research Director Andrew Lerner wrote about the challenges of deploying SDN overlays. At this point, a set of best practices is hard to find since many misconceptions about SDN still exist. However, colleagues of Lerner's recently published research described three challenges that need to be addressed before deploying an SDN overlay. Lerner also linked to research describing how to improve data center agility with network virtualization, writing that these resources can be valuable when attempting to deploy an SDN overlay.
View Lerner's post describing challenges of deploying SDN overlays and how network virtualization can improve data center agility.
Why OpenFlow isn't the best for overlay virtual networks
Nicira, OpenStack and OpenDaylight are using OpenFlow to implement virtual network overlays, but that may not be the best way to go, wrote IpSpace's Ivan Pepelnjak. In his post, Pepelnjak broke down glitches associated with implementing these types of networks, including issues with Layer-2 gateways and distributed Layer-3 forwarding. He then explored whether OpenFlow is really needed by comparing it to a Swiss Army knife -- it can solve many problems, but it isn't ideal for any of them. Instead, Pepelnjak offered another option that could work better than OpenFlow when implementing overlay virtual networks.
Take a look at what Pepelnjak recommended over OpenFlow when implementing overlay virtual networks.