News
Stay informed about the latest enterprise technology news and product updates.
OpenDaylight Project expands with Avaya, 6WIND and H3C Technologies
The OpenDaylight Project welcomed Avaya, 6WIND and H3C Technologies into their membership ranks with hopes of expanding SDN, NFV code adoption.
The OpenDaylight Project got three new members in 6WIND, Avaya and H3 Technologies. Since launching a year ago, membership for the OpenDaylight Project has more than doubled, with the number of companies involved now reaching 35. The community has also grown to more than 170 developers.

Download this free guide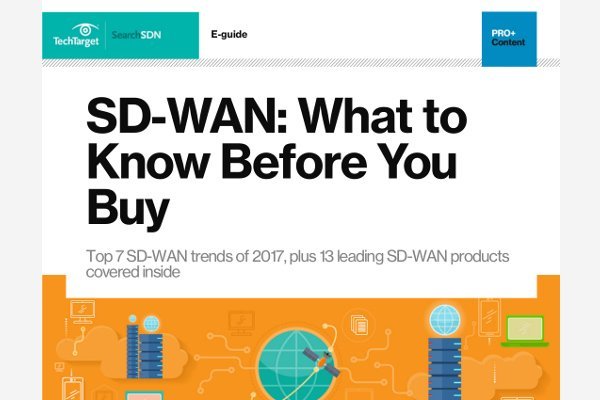 SD-WAN Buyer's Guide: What to Know Before You Buy
In this two-part guide, analyst Lee Doyle reveals the top 7 SD-WAN trends to watch for this year, and our editors compare 13 leading SD-WAN products in one handy infographic to help guide your purchasing decision.
"It's great to be seeing so much traction every month," said OpenDaylight Executive Director Neela Jacques. "You start one of these projects and have interested parties, but it's easy in a sense to lose steam after a while … there's always that concern of how well will your community resonate with a broader set of people."
6WIND helps enterprises benefit from open architectures
6WIND, a packet processing software company, is focused on network vendors in the telecom, enterprise and cloud infrastructure markets. According to Kelly LeBlanc, vice president of marketing, 6WIND is looking to transition with the adoption of SDN and network functions virtualization by taking advantage of high-performance Linux networking applications on standard hardware.
"OpenDaylight has created a neutral space for the industry to collaborate and enable that transformation using open networking architectures," she said. "By lending our expertise with packet processing software, we believe we can add additional value to this community in critical areas of performance and scalability."
6WIND will work on projects geared toward the improved performance for telcos, enterprises and cloud providers to benefit from open networking architectures. This includes design projects that allow for transitions to new architectures, she said.
Avaya is thinking network automation
Randy Cross, director of networking infrastructure architecture at Avaya, said OpenDaylight's work with OpenStack drove Avaya to get involved.
"The position they're taking has shown to be unique in the SDN world," Cross said. "They're not looking to say there's one right way to do things -- they're really open to the possibility of what can be done in the SDN world and looking at a breadth of solutions. We see potential in their ability to look at SDN in more than one way, and there's a great community of people there to help develop it."
In the short term, the folks at Avaya are looking to become better acquainted with the working groups at OpenDaylight. Eventually, Cross said the company hopes to become an active contributor in their main areas of interest, which include automation. "We're talking about automation overall and how the controller is communicating with the infrastructure from a southbound perspective," he said. "But [we're also interested in] real-time communications … and what's going to happen with real-time communications in an SDN environment. We want to help with that."
H3C Technologies is a network vendor with principal operations in Hangzhou, China. H3C sells its products through channel partners in Greater China and is a wholly owned subsidiary of HP.The company focuses on supplying routers, Ethernet switches, wireless LAN and network management systems. Xuejun You, vice president at the company, reiterated how quickly network architecture is evolving and how important the concept of open source is to this evolution.
"The ability to manage networks dynamically and to respond to changing needs is what SDN [is] all about, and having an infrastructure based on openness means we can innovate where it counts," he said.
Dig Deeper on SDN strategy and ROI