News
Stay informed about the latest enterprise technology news and product updates.
SDN blogs: OpenDaylight's open source SDN release; why learn Python?
SDN bloggers discuss why OpenDaylight's open source SDN release is worth noting, issues with Cisco's SDN defense, and the importance of Python.
Why OpenDaylight's Hydrogen release matters
OpenDaylight's release of Hydrogen this week is monumental in the industry's largest open source initiative, Plexxi's Mike Bushong wrote on the company blog. The release of functional code will add to the work being done to unify heterogeneous environments into shared fabrics and orchestration scenarios. The commercial impact of Hydrogen will be significant, Bushong predicted. The openness of the new controller and code, and the speed at which OpenDaylight has moved, is indicative that progress in the code going forward will be swift.

Download this free guide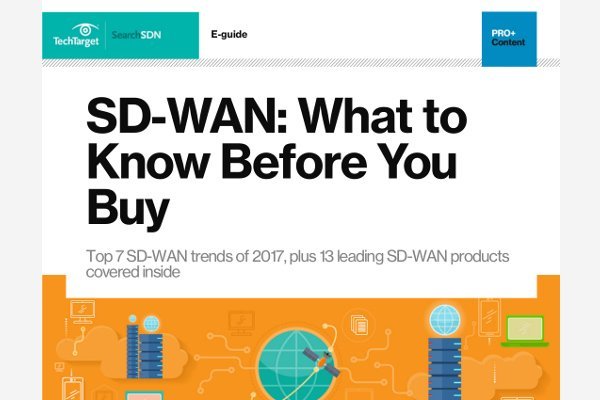 SD-WAN Buyer's Guide: What to Know Before You Buy
In this two-part guide, analyst Lee Doyle reveals the top 7 SD-WAN trends to watch for this year, and our editors compare 13 leading SD-WAN products in one handy infographic to help guide your purchasing decision.
Take a look at Bushong's full post and his reasoning behind the significance of OpenDaylight's Hydrogen release.
How to do complex routing in Hyper-V network virtualization
The Hyper-V network virtualization forwarding model that only uses Layer 3 is posing challenges for engineers who are used to dealing with traditional Layer 2 subnets connected by Layer 3 switches, IP Space's Ivan Pepelnjak wrote. In turn, Pepelnjak broke down how to do this complex routing in his post. He included diagrams and commentary, adding thoughts on security and offering links to other commentary for those who continue to struggle with overlay virtual networking concepts.
Check out Pepelnjak's explanation on how to do complex routing in Hyper-V network virtualization environments.
What's with the sudden focus on Python?
Keeping it Classless' Matt Oswalt explored the industry's fascination with Python in a blog post on his personal site. Network programmability and interoperability are key factors, as well as the introduction of SDN. Not every network controller will be open source, Oswalt wrote, but if future engineers are going to be using application programming interfaces and software development kits as much as they are command-line interfaces, then a common standard should be there, as well.
New engineers would also benefit from learning fundamentals, like subnetting, cabling and various protocols. Once they have these down, they can begin configuring a specific platform to support these concepts. At the end of the day, those interested in SDN and learning Python will be doing so for more than just understanding the language -- Python means learning concepts of automation and network configuration, helping to teach the engineer how to move into an iterative model of configuring network devices.
Read Oswalt's full post on why an interest in Python goes beyond just learning a new programming language.
Cisco's SDN defense isn't measuring up
J.P Morgan's Rod Hall recently cut his rating on shares of Cisco from "neutral" to "underweight," and the main reason for the cut is due to the rise of SDN, Barron's Tiernan Ray wrote in his tech blog. Shares of Cisco continue to plummet, and Ray wrote that SDN's replacement of traditional network routers and switches spells continued trouble for Cisco. Hall has said that bare-metal networking equipment has a clear pricing advantage, contrary to what Cisco reported during its analyst day presentation in December, Ray noted in his blog.
Take a look at Ray's full overview of J.P. Morgan's assessment of Cisco's SDN strategy.
Dig Deeper on SDN companies