News
Stay informed about the latest enterprise technology news and product updates.
Using open source SDN technology? Join us for an SDN Twitter chat
Are you exploring open source SDN technology? SearchSDN and Juniper Networks partner on Twitter to talk about open source SDN and its benefits.
Do you think open source SDN technology is vital to next-generation, programmable networks? Are you currently exploring or using open source SDN technology? SearchSDN is partnering with Juniper Networks to host our next SDN tweetup on November 20th at 1 EST, 10 PST. Join us and hear from SearchSDN editors, Juniper experts and SDN Twitter heavyweights, as they discuss the advantages of open source SDN technology.

Download this free guide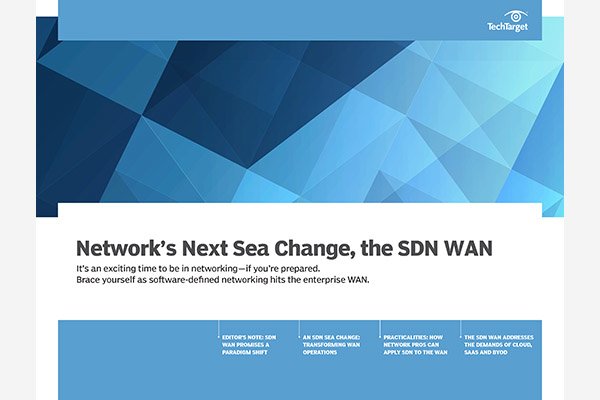 How SDN is Transforming WAN Operations: Free Handbook
Access our handbook now to navigate the waters of SDN in the WAN, with tips on overcoming implementation challenges, use cases for SD-WAN, and how to adjust to the altered network engineering career prospects that result.
SearchSDN editors Rivka Gerwitz Little (@RivkaLittle) and Shamus McGillicuddy (@ShamusTT), as well as Juniper Network's Vice President of SDN Software Marketing and Strategy Aruna Ravichandran (@aruna13), will be there to answer your questions and participate in the discussion. The chat will be hosted by SearchSDN Associate Editor Michelle McNickle (@m_mcnickle) on the @SearchSDN Twitter account.
You can answer each question posed by @SearchSDN by including the hashtag #SDNchat. We'll be discussing the following open source SDN questions:
Q 1. Are you currently testing or evaluating open source SDN technology? What has your experience been like? #SDNchat
Q 2. Are you concerned about using open source technology for something as essential as your network? Why or why not? #SDNchat
Q 3. What are some of the advantages you see in using open source SDN technology? #SDNchat
Q 4. Juniper is co-hosting this tweetup. Do you have any questions for @aruna13 about OpenContrail? #SDNchat
Dig Deeper on SDN strategy and ROI