News
Stay informed about the latest enterprise technology news and product updates.
Overheard on Twitter: What folks have to say about the new Cisco ACI
Twitter users discuss the release of SDN fabric Cisco ACI and how it will impact Cisco's relationship with VMware and change the future of networking.
Cisco announced the release of its data center SDN technology this week, as well as the $863 million acquisition of Insieme, the company Cisco formed about a year ago to develop programmable and flexible networks. The result of Insieme's work is the Application Centric Infrastructure, which includes a new line of Nexus 9000 switches, an application-aware switching fabric, and a centralized controller that manages virtual and physical infrastructures.

Download this free guide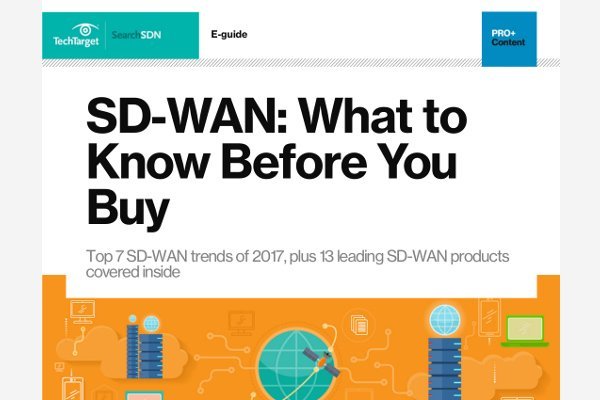 SD-WAN Buyer's Guide: What to Know Before You Buy
In this two-part guide, analyst Lee Doyle reveals the top 7 SD-WAN trends to watch for this year, and our editors compare 13 leading SD-WAN products in one handy infographic to help guide your purchasing decision.
There was no shortage of opinions on Twitter once the announcement was made. Some looked to the competition that could now ensue between Cisco and VMware with its NSX ecosystem. Others pointed out that although Cisco Application Centric Infrastructure (ACI) will bring much-needed programmability to the network and allow engineers to control many ports from a central point, this will only happen after a considerable investment is made in new hardware and after dedicating fully to Cisco-only products.
We rounded up some of the punchiest opinions made on Twitter after the company announcement.
Cisco ACI becomes a contender in the SDN war
Plenty of Twitter users commented on how Cisco's new technology would create competition between Cisco ACI and VMware's NSX. Meanwhile, others compared Cisco's SDN approach to companies like Juniper, while some Twitter users recognized the announcement as "nothing new."
My take on #Cisco #ACI #SDN launch today: Cisco has fired back at industry sceptics with a strong value prop for their DC offering. Game on!

— Rohit Mehra (@rmehraIDC) November 6, 2013
I really like the approach of cisco enter SDN war.Indeed cost comparison between ACI and NSX is relevant ... we hope vmware will change mind

— faisal (@abuabdurahman82) November 7, 2013
although I know it's different, ACI looks, from a biz model + gtm perspective, like Cisco is trying to do a Juniper. why will this work?

— Aneel (@aneel) November 6, 2013
Cisco's ACI ; I don't think its anything new but I think it will be successful due the number partners backing it.

— Allen Baylis (@allenbaylis) November 7, 2013
Cisco ACI could serve as an SDN game-changer
While some said Cisco ACI was not innovative enough, others said it could mean big changes for networking. Users pointed out a number of changes that could happen as a result of the new SDN fabric.
#cisco marketing machine just got into full swing on #aci interesting to see how things will play out, networking will change forever..

— Erik Lenten (@ErikLenten) November 6, 2013
"No value in being a VLAN Plumber anymore" @techwisetv @Cisco #ACI

— Eric Perkins (@perk_zilla) November 7, 2013
Cisco #ACI Application Profile similar to a #CiscoUCS Service Profile but for an application. With ACI, app location no longer matters.

— Chris Fendya (@ChrisFendya) November 7, 2013
I can see how #ACI could be very powerful in a hybrid cloud environment to connect and enforce policies consistently. #tfd #cisco

— John (@mrtugs) November 6, 2013
Tweeters talk Cisco ACI issues loud and clear
Of course, some Twitter users brought to light a number of issues with not only Cisco ACI, but also with the announcement of the new SDN fabric. Some questioned older versions of Cisco's core OS, while others questioned the emphasis -- or lack thereof -- on the Nexus 9000 switches during the ACI keynote.
Is it me or did Cisco forget to apply Cisco.Math() to N9k data sheets? You can't change Cisco Math! Now you're really messing with us.. #ACI

— Mat Mathews (@matmathews) November 7, 2013
Can't keep up with all the Cisco Nexus 9000 and ACI videos #Cisco #ACI #BrainCramp

— Bill Carter (@billyc5022) November 6, 2013
.@Cisco #ACI my arse 'cause we need more licenses, tight coupling, and complexity (even w/ #openstack) Seriously, LB + /32 ESR + FC/NFS

— Dónal (@irldexter) November 6, 2013
If Cisco's core OS (NX-OS) is now 50% more simplified, what does that about their prior versions? *cough, cough* #aci

— Justin Erenkrantz (@jerenkrantz) November 6, 2013
Very interesting that the main #ACI keynote only mentioned the Nexus 9000 hardware in passing. Shows where Cisco is trying to put the focus.

— Bob McCouch (@BobMcCouch) November 6, 2013
#Cisco glazed over BiDi optical 40G over 10G cable plant, shocking! This is a huge announcement in my opinion. #ACI

— Kevin Keeney (@kevinkeeneyjr) November 6, 2013
Cisco ACI breaking new ground, providing a solid approach to SDN
Lastly, many tweeted in support of Cisco's new SDN fabric, writing that the technology is all-inclusive and is "good for everyone."
Once I'd have been skeptical if you mentioned F5/Cisco working very closely... But #ACI is good for everyone - us, them, IT staff.

— dmacvittie (@dmacvittie) November 6, 2013
Cisco, now, has everything EOS offered baked in (awesome) but they've also expanded on it (even more awesome). #ACI

— Matthew Stone (@Bigmstone) November 6, 2013
Impressed with #Cisco's #ACI focus on customer engagement and ecosystem creation. Clearly the homework is done. ACI will go from DC to WAN

— Dana Cooperson (@DanaCooperson) November 6, 2013
Cisco #ACI ecosystem == EVERYONE DOES EVERYTHING

— Matt Oswalt (@Mierdin) November 6, 2013
Forget for the moment that the spotlight is on Cisco. The direction of networking ACI is solid and they are not alone in that.

— Mike Fratto (@mfratto) November 6, 2013
#ACI not just the "network" - it's integrating 2 network silos (L2-3 and L4-7) with a common policy framework that improves service velocity

— Lori MacVittie (@lmacvittie) November 6, 2013
Dig Deeper on Network hardware and SDN