HP and VMware NSX: Joint management for virtual and physical networks
HP will integrate its SDN controller and network management platform with VMware NSX for joint management across physical and virtual networks.
SAN FRANCISCO -- HP will federate its SDN controller and integrate its network management platform with VMware NSX to unify operations across virtual and physical networks.

Download this free guide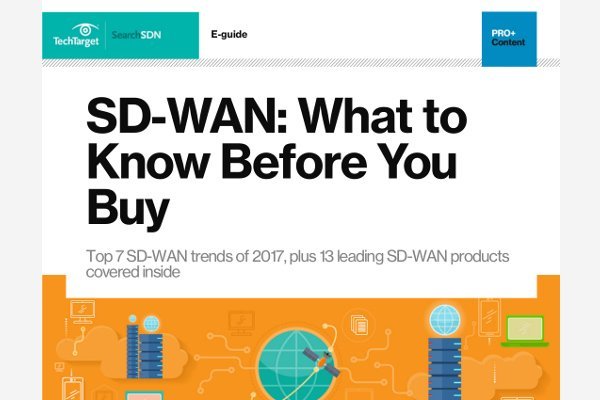 SD-WAN Buyer's Guide: What to Know Before You Buy
In this two-part guide, analyst Lee Doyle reveals the top 7 SD-WAN trends to watch for this year, and our editors compare 13 leading SD-WAN products in one handy infographic to help guide your purchasing decision.
By submitting your personal information, you agree that TechTarget and its partners may contact you regarding relevant content, products and special offers.
You also agree that your personal information may be transferred and processed in the United States, and that you have read and agree to the Terms of Use and the Privacy Policy.
There is definitely a need for increased visibility of the physical infrastructure in the overlay environment … this is the problem we will solve with integration of the VMware controller and our SDN controller, and the visibility we have with IMC.

Kash Shaikhsenior director of product and technical marketing, HP Networking
Hewlett-Packard's (HP) Virtual Application Networks (VAN) SDN controller will now federate with VMware's NSX controller via the OVS-DB protocol. HP also announced a new SDN application for its VAN controller, which will allow HP's Intelligent Management Center (IMC) to share information about the network with both controllers.
"The ConvergedControl application gets intelligence from IMC to look at the attributes and state of the physical network and combine that with the [virtual network] overlay to deliver that intelligence top-down to the network," said Kash Shaikh, senior director of product and technical marketing for HP Networking. "VSphere provides visibility of the virtual network. The addition here is visibility of the physical network. For example, if you have an overlay and one of your ECMP [equal cost multipath routing] links goes down, the virtual network may not have visibility [into] the problem."
While the NSX controller provisions the virtual network overlay, HP's VAN controller will provision physical network flows on its switches via OpenFlow. The two controllers can work together in making sure the virtual network gets the physical flows it needs.
"Virtual networks are provisioned by the NSX controller," Shaikh said. "From the control perspective, the fact that we have a plug-in of VMware vCenter in IMC, even if that functionality is driven by NSX, it is managed and controlled by IMC. From the [network manager's] perspective, they are using a single tool: IMC."
HP also announced the 5930 top-of-rack switch, which supports both OpenFlow and VXLAN tunnel termination. Through federation with HP's SDN controller, NSX can provision tunnel endpoints on the 5930 for bare-metal servers. Meanwhile, HP's SDN controller and IMC platform gain both visibility and control over the physical network through the same switches, and share those capabilities with NSX.
"This federation is going to solve one of the key gaps the industry has -- the unification of the virtual overlay and physical underlay," Shaikh said.
While network virtualization has its benefits, IT operations remain challenged by how to integrate the physical and virtual domains, Shaikh said. Today the tools to manage these two environments are disconnected.
"There is definitely a need for increased visibility of the physical infrastructure in the overlay environment," Shaikh said. When there is congestion or failure on the physical network, the virtual environment has to know. "This is the problem we will solve with integration of the VMware controller and our SDN controller, and the visibility we have with IMC. It is a single pane of glass."
The HP-VMware federation will allow IT to engineer traffic on the physical network to support network connectivity provisioned by NSX, said Joe Skorupa, vice president and distinguished analyst with Stamford, Conn.-based Gartner. Networking pros could potentially reallocate paths as new connections come up in NSX, and they could re-establish paths for critical applications in the virtual network in the event of failure.
More on VMware's network virtualization strategy
VMware has argued that it simply needs a high-bandwidth, multi-path IP network underneath the NSX virtual network, but Skorupa said this is a gamble.
"When vCenter fires up an application and needs two connections across the network for redundancy, it needs a certain quality of service," he said. "Today, if you just dump that into the IP underlay, you're going to hope you get what you need. You're going to hope the bandwidth is available and the paths are available and the traffic is appropriately distributed. But you can't be certain. In the real world, you have all these tunnels set up and the network properly balanced, and everything is great. Then a new workload comes up and needs a particular amount of bandwidth, and there isn't one path through the network that can satisfy it. You can spray the traffic across multiple paths and then reassemble it at the other end, but you get lots of overhead."
Most of this technology is still a long way from hitting the market. The HP-VMware controller federation and the ConvergedControl application won't be available until the second half of 2014. The HP 5930 switch will be available this December, but Andre Kindness, principal analyst with Cambridge, Mass.-based Forrester Research, said HP has the orchestration pedigree to pull something like this federation off.
"They've been the masters of orchestration," he said. "That's been one of their strengths historically."
Let us know what you think about the story; email: Shamus McGillicuddy, news director.