News
Stay informed about the latest enterprise technology news and product updates.
Overheard on Twitter: SDN security; network functions virtualization
SearchSDN explored Twitter and saw users discussing SDN security, network functions virtualization and network virtualization, and SDN use cases.
Each week, SearchSDN takes to Twitter to see what users -- including experts, analysts and editors -- are saying about software-defined networking. By using Storify and searching hashtags, keywords and tweetups, we scour the social media site to see what users have to say about SDN, OpenFlow, network virtualization and more. This week we looked to Twitter and got an earful from tweeters about SDN's role in network security, network virtualization versus network functions virtualization, and SDN's ROI.

Download this free guide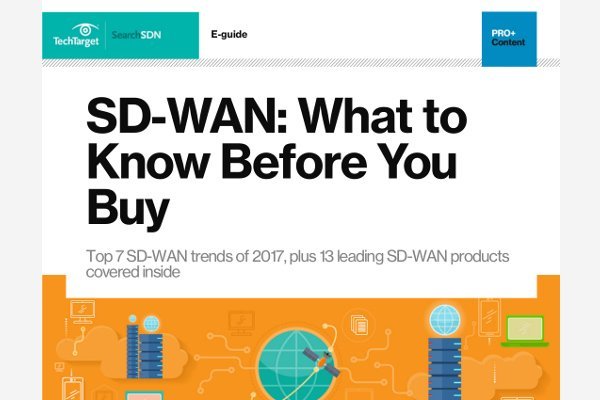 SD-WAN Buyer's Guide: What to Know Before You Buy
In this two-part guide, analyst Lee Doyle reveals the top 7 SD-WAN trends to watch for this year, and our editors compare 13 leading SD-WAN products in one handy infographic to help guide your purchasing decision.
SDN and its role in network security
This past week, Cisco had a lot to say about using SDN in network security strategies on its Cisco Secure Data Solution Twitter account.
"We can't solve everything, everywhere for everybody, but the potential for #SDN is to link fragmented systems" #SecureDC

— Cisco SecDatacenter (@SecDatacenter) July 30, 2013
"With Data confidenciality and multi-teneancy, the network plays a critical role and #SDN allows us to manage that" - Bret Hartman #SecureDC

— Cisco SecDatacenter (@SecDatacenter) July 30, 2013
"Think of #SDN as a perimeter around all of these different processes" - Jon Oltsik

— Cisco SecDatacenter (@SecDatacenter) July 30, 2013
How do you prevent an ongoing attack without having to shut down the business? #SDN can allow orgs to drill down & turn off specific parts.

— Cisco SecDatacenter (@SecDatacenter) July 30, 2013
"What we need is one ecosystem of security services that can ride on the platform of #SDN" - Bret Hartman #SecureDC

— Cisco SecDatacenter (@SecDatacenter) July 30, 2013
SDN ready to offer ROI?
Jim Metzler, who spoke on SDN at this year's Interop, started an interesting mini conversation, which lead Anthony Rocca, data center converged infrastructure lead at Cisco, to comment on whether SDN is a cost-effective option in the data center. Peter Panagopoulos, B/OSS pre-sales architect, also brought up an interesting question focusing on cyber-physical systems and SDN.
I just had three days of meetings all over the San Jose area and I am intrigued that only one of the meetings wasn't on the topic of SDN.

— Jim Metzler (@AshtonMetzler) July 26, 2013
@AshtonMetzler #SDN has still not gone #viral. Lots of physical connectivity at L2-3 with L4-7 being the high cost boat anchor in the DC.

— Anthony Rocca (@Anthony_Rocca) July 27, 2013
What is your take on #SDN? Will #CSPs adopt in the next couple of years or should we expect a slow adoption based on key ROI findings?

— Peter Panagopoulos (@PeterPana05) July 30, 2013
Can we really peg what SDN is and what it should be used for?
A series of tweets by SDN industry favorites explored some interesting points this week. Brocade Senior Product Marketing Manager Lisa Caywood insisted time shouldn't be spent on defining what SDN is per se, and professionals should instead be looking at what SDN can do for them. Meanwhile, other tweeters offered up examples of how SDN could be used, and what it isn't.
#SDN is not all about commoditizing the hardware - it's about making infrastructure more dynamic to adapt to apps requirement. #OpenFlow

— Faisal Hanif (@ffhanif) July 29, 2013
the problem with the current networks is we cant control the links and the policies without hardcoding that ...here #SDN comes to rescue !

— Eman arabiat (@Eman_arabiat) July 28, 2013
As much time as I've spent debating what is & isn't #SDN this week--WHO CARES? Look at the arch options & figure out what they'd do 4 you.

— Lisa Caywood (@RealLisaC) July 26, 2013
@RealLisaC SDN is like ILM right after Frank-Dodd. Everyone says they have it even if they can't define it.

— Adam Baum (@ITVirtuality) July 27, 2013
Network virtualization continues to spark debate
We also saw mention this week of network virtualization and, once again, what it entails. Tweeters argued what network virtualization is versus SDN, whether or not it can result in fewer ports, and the difference between network virtualization and network functions virtualization.
@CloudyNetwork no arguments here. SDN=mechanism. Network virtualization=real-world solution you can deploy and benefit from today

— VMware NSX (@vmwarensx) July 25, 2013
"Network virtualization does not equal fewer switch ports". << agree to disagree. #IndyVMUG #SDN

— Justin Youngs (@justinyoungs) July 25, 2013
"Network Virtualization is not about consolidation, it's really about speed and agility" @scott_lowe @MyVMUG #VMUG

— Todd J. Lewey (@TLewey) July 25, 2013
There's quite a bit of network virtualization occuring in operators that you probably wouldn't decribe as NFV... maybe as steps towards NFV

— Gabriel Brown (@Gabeuk) July 25, 2013
Dig Deeper on SDN network virtualization