News
Stay informed about the latest enterprise technology news and product updates.
Overheard on Twitter: Cisco onePK, SDN data center costs
SearchSDN explored Twitter and saw users discussing Cisco Live and Cisco onePK, as well as SDN, hardware and data center costs.
Each week, SearchSDN takes to Twitter to see what users, including experts, analysts and editors, are saying about software-defined networking. By using Storify and searching hashtags, keywords and tweetups, we scour the social media site to see what users have to say about SDN, OpenFlow, network virtualization and more. This week, we looked to Twitter and got an earful from Tweeters about Cisco Live and Cisco onePK, as well as a lively discussion regarding SDN, hardware versus software and data center costs.

Download this free guide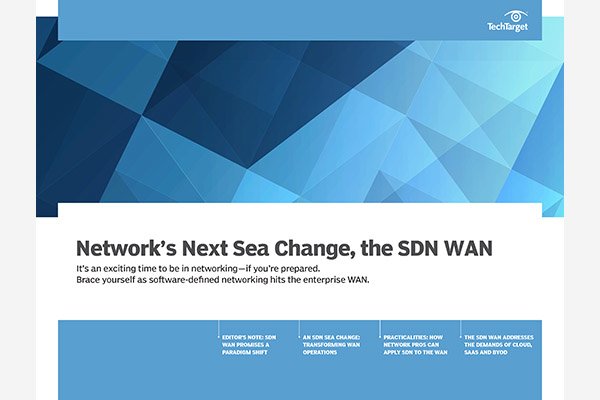 How SDN is Transforming WAN Operations: Free Handbook
Access our handbook now to navigate the waters of SDN in the WAN, with tips on overcoming implementation challenges, use cases for SD-WAN, and how to adjust to the altered network engineering career prospects that result.
By submitting your personal information, you agree that TechTarget and its partners may contact you regarding relevant content, products and special offers.
You also agree that your personal information may be transferred and processed in the United States, and that you have read and agree to the Terms of Use and the Privacy Policy.
#cisco (finally) embracing the full capabilities of #sdn. #clus

— Lee Doyle (@leedoyle_dc) June 25, 2013
Application specific use cases for #onePK solve customer problems - think beyond Layers 2/3 #clus #one #sdn

— Cisco CArchitects (@CiscoCArchitect) June 27, 2013
Cisco is moving from #SDN to Application-Centric Infrastructure. Sure this space is muddy #CLUS

— Kumar Palaniappan (@megamda) June 26, 2013
@sdn_news at Cisco Live, asking the same question often about SDN. ur turn, what should today's net eng put in the toolkit for #SDN ? #clus

— Tomi (@4th_write) June 25, 2013
@ciscolive #sdn #openstack will be gamechangers. #onepk and Cisco one will redefine how we get IT done #clus

— Eric Rife (@Ericrife) June 27, 2013
CLI is built for human interaction, not machine interaction. - Frank Brockners #SDN #CLUS

— Jeff (@fryguy_pa) June 25, 2013
Best analogy so far: today's networks r like asking directions each intersection. #SDN OpenFlow resembles a GPS, computes end to end route

— Michael Warrilow (@micwarg) June 26, 2013
After searching through tweets this week, we also stumbled across a discussion between Joe Onisick, technical marketing engineer and founder at Define the Cloud, and Jason Edelman, blogger and senior solutions architect based out of New York City. Both heated up the social networking site with this discussion focusing on the cost of hardware versus SDN.
When is the "#SDN is about cheaper hardware" BS going to stop? Network hardware is a tiny fraction of #datacenter cost and not the issue.

— Joe Onisick (@jonisick) June 26, 2013
@jonisick Aren't you glad virtual ports are free?

— Jason Edelman (@jedelman8) June 26, 2013
@jedelman8 Which virtual ports are free? KVM, Xen, any others? That's also before you make them anything other than an L3 switch.

— Joe Onisick (@jonisick) June 26, 2013
@jonisick Hmmm, Cisco 1000V.

— Jason Edelman (@jedelman8) June 26, 2013
.@jedelman8 And no matter how whiz bang magic unicorn you make a virtual port it won't push a packet without a switch at cables end.

— Joe Onisick (@jonisick) June 26, 2013
@jonisick BS. Plug the servers into a massive network of powerline adapters ;)

— Jason Edelman (@jedelman8) June 26, 2013
@jedelman8 Sadly there is some startup with funding trying to pawn off server interconnect cabling with software as ToR replacement.

— Joe Onisick (@jonisick) June 26, 2013
@jonisick ...and you move the extra cost from the hw to an expensive sw controller cluster... overall cost is pretty much the same.

— Todd Craw (@toddmcraw) June 26, 2013
.@toddmcraw Don't forget to add a dash of training, a sprinkling of expertise and two scoops of OpEx Bran. #SDN cost savings

— Joe Onisick (@jonisick) June 26, 2013
Dig Deeper on SDN network virtualization