News
Stay informed about the latest enterprise technology news and product updates.
Overheard on Twitter: SDN agility; Cumulus Linux commentary
SearchSDN explored Twitter and saw users discussing SDN agility, Cumulus Linux news, network virtualization and thoughts on OpenFlow.
Each week, SearchSDN takes to Twitter to see what users -- including experts, analysts and editors -- are saying about software-defined networking. By using Storify and searching hashtags, keywords and tweetups, we scour the social media site to see what users have to say about SDN, OpenFlow, network virtualization and more. This week, we looked to Twitter and got an earful from Tweeters about SDN agility, network virtualization, and the news from Cumulus Networks and its Linux network.

Download this free guide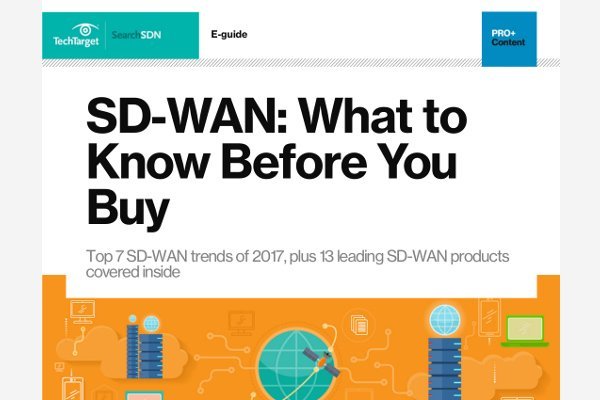 SD-WAN Buyer's Guide: What to Know Before You Buy
In this two-part guide, analyst Lee Doyle reveals the top 7 SD-WAN trends to watch for this year, and our editors compare 13 leading SD-WAN products in one handy infographic to help guide your purchasing decision.
By submitting your personal information, you agree that TechTarget and its partners may contact you regarding relevant content, products and special offers.
You also agree that your personal information may be transferred and processed in the United States, and that you have read and agree to the Terms of Use and the Privacy Policy.
Thinking today that SDN will drive SDN. Software defined networks will truly enable Self defined networking - the personal network @ scale

— Paul Gainham (@PaulGainham) June 19, 2013
"We have software defined networking already today. We just have the wrong kind. They aren't agile." Joe Skorupa #gartneriom

— Rob Whiteley (@rwhiteley0) June 18, 2013
@mcasado Quote "The way that you evaluate the way OpenFlow helps you is to evaluate the products that are built on it." Nerd poetry.

— Brent Salisbury (@networkstatic) June 15, 2013
Lets face it there is no hope of a single, clean & shiny answer to next gen network virtualization. It is going to be about hybrid networks.

— tcorbo (@tcorbo) June 20, 2013
Recently, news broke that startup company Cumulus Networks released a Linux-based network operating system. The system, called Cumulus Linux, is a version of the open source operating system that's built to run bare-metal switch hardware -- this includes the open-specification switches that the Facebook Open Compute project is planning to include. Twitter users had a lot to say about the new operating system, as well as the future of the project and Cumulus Networks.
How is #OpenFlow and #Cumulus supposed to change networking when the HW costs $250 a port. I can get Cisco stuff for $62.50 a port...

— Seth Kingry (@skingry) June 21, 2013
I waited to see who in #SDN would want to support mega data centers ( aka #Facebook, #Amazon, #Google) now we know - #Cumulus Networks

— vernon turner (@vernonxt) June 19, 2013
#Cumulus Networks:not today's problem for #SDN in the Enterprise,but after cutting its teeth on hyperscale,expect guys in SPs to be nervous

— vernon turner (@vernonxt) June 19, 2013
#Cumulus Networks; I have seen this movie before when Diane Greene in my office in 1999 - is the ending going to be the same a la #SDN?

— vernon turner (@vernonxt) June 19, 2013
Linix is the Linux of networking. #cumulus #structure

— Alex Williams (@alexwilliams) June 19, 2013
.@bradhedlund @JRCumulus Tipping your hat to an aquisition? #VMware buys #Cumulus to round out #NVP?

— Joe Onisick (@jonisick) June 16, 2013
#FutureNews ? #VMware aquires #Cumulus? @bradhedlund's recent comments/tweets hint that direction.

— Joe Onisick (@jonisick) June 16, 2013
So if #VMware buys #Cumulus how quickly can they recoup $2B or so in total spend on #SDN aquisitions? What does #IDC predict the market at?

— Joe Onisick (@jonisick) June 16, 2013
Dig Deeper on SDN network virtualization