News
Stay informed about the latest enterprise technology news and product updates.
Overheard on Twitter: At Interop, users still seeking SDN definition
SearchSDN was live at Interop, where analysts and IT professionals took to Twitter to discuss SDN definitions, inhibitors and value propositions.
Software-defined networking took center stage at Interop in Las Vegas last week, playing a role in many panel discussions. In fact, SDN had a starring role during keynotes, where a lineup of networking heavyweights, including Vmware's Martin Casado and Juniper's Bob Muglia, debated the technology. In large part, though, users at Interop were still seeking a basic SDN definition, something they need before they could consider implementation.

Download this free guide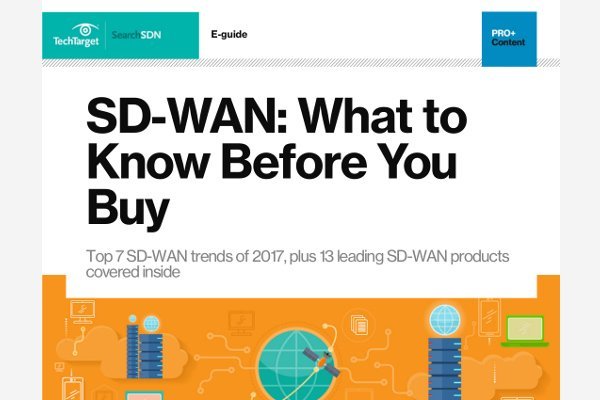 SD-WAN Buyer's Guide: What to Know Before You Buy
In this two-part guide, analyst Lee Doyle reveals the top 7 SD-WAN trends to watch for this year, and our editors compare 13 leading SD-WAN products in one handy infographic to help guide your purchasing decision.
Twitter was buzzing with SDN comments throughout Interop, and we rounded up some of the best tweets we could find.
There are just as many definitions of #SDN as there are enterprises that use it. #Interop

— Andy Fields (@PainPoint) May 8, 2013
#SDN is a network architecture in which the network control plane is decoupled from the physical topology @mpdavy #Interop

— Interop (@interop) May 7, 2013
The underpinnings of SDN are already in place. #SDN #Interop

— SearchSDN (@SearchSDN) May 8, 2013
Inhibitors to #SDN: confusion and hype, new ways of thinking, concerns over interoperability #Interop

— Michelle McNickle(@m_mcnickle) May 7, 2013
"SDN edge holds significant strategic value, but not much revenue potential" says @bradcasemore (agree) #interop

— Abner Germanow (@abnerg) May 9, 2013
#SDN is a tool that allows us to develop programmable infrastructure - via Steve Riley of @riverbed @ #INTEROP My 2c bit.ly/Yen26b

— Dormain Drewitz (@DormainDrewitz) May 8, 2013
"SDN is a forklift upgrade." an #SDN myth #Interop

— Michelle McNickle(@m_mcnickle) May 8, 2013
Primary value prop. is speed and agility...also asset utilization. #SDN #Interop

— SearchSDN (@SearchSDN) May 8, 2013
#interop #SDN panel - even in an overlay world, strong support for visibility into the physical components for troubleshooting & perf mgmt

— Calvin Chai (@chachi04) May 8, 2013
Vendors need to expose functionality available in the network [to establish value]#SDN #Interop

— SearchSDN (@SearchSDN) May 8, 2013
Don't say #SDN is a new way of networking so I need a new way of management – determine challenges and tweak existing processes. #Interop

— Michelle McNickle(@m_mcnickle) May 7, 2013
SDN can be compatible with the existing infrastructure you have today Bob Muglia of @junipernetworks #Interop

— Interop (@interop) May 8, 2013
"Value (DIY) = maximum customization – development overhead – ongoing maintenance" #SDN #Interop

— Michelle McNickle(@m_mcnickle) May 7, 2013
SDN panel - hw/sw decoupling will happen because its just a better system design. Impact on the supply chain is a big TBD #interop

— Calvin Chai (@chachi04) May 8, 2013
Dig Deeper on SDN network virtualization