News
Stay informed about the latest enterprise technology news and product updates.
Join SearchSDN on April 26 for an ONS-themed Twitter chat
On April 19 SearchSDN will be hosting a Twitter chat to delve into topics covered at the Open Networking Summit. Join us to discuss the latest in SDN.
Editor's note: This event was originally scheduled for Friday, April 19, but due to events in Boston, it has been rescheduled to Friday, April 26.

Download this free guide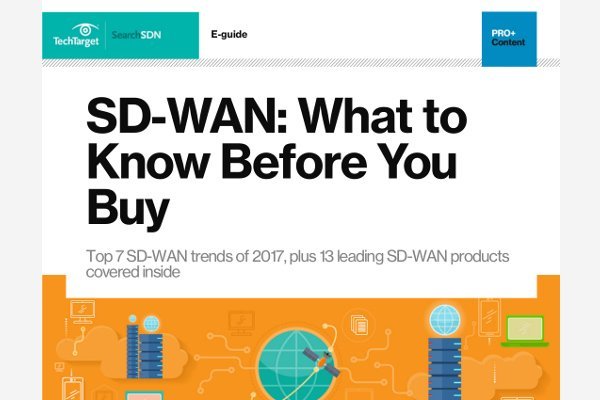 SD-WAN Buyer's Guide: What to Know Before You Buy
In this two-part guide, analyst Lee Doyle reveals the top 7 SD-WAN trends to watch for this year, and our editors compare 13 leading SD-WAN products in one handy infographic to help guide your purchasing decision.
By submitting your personal information, you agree that TechTarget and its partners may contact you regarding relevant content, products and special offers.
You also agree that your personal information may be transferred and processed in the United States, and that you have read and agree to the Terms of Use and the Privacy Policy.
With the recent Open Networking Summit, we've seen Twitter users had a lot to say about the state of software-defined networking. That's why SearchSDN.com is hosting its first "tweetup" on Friday, April 26 at noon, EST. Take a break from your Friday to join us and answer questions focusing on topics discussed during the Open Networking Summit. Tweetup participants could also be featured in a future Overheard on Twitter piece, which runs each week on the SearchSDN site.
TechTarget associate site editor Michelle McNickle (@m_mcnickle) will moderate the tweetup from the SearchSDN Twitter handle, @SearchSDN. In addition to contributions from SearchSDN news editor Shamus McGillicuddy (@ShamusTT) and Executive Editor Rivka Gewirtz Little (@RivkaLittle), we'll hear from experts and site contributors during the event to ensure a lively and engaging chat.
Here's how it works:
Date: Friday, April 26, 2013
Time: 12 p.m. EST
Host: @SearchSDN
Hashtag: Use and follow #SDNChat (additional hashtags #ONS, #SearchSDN)
Whether you're a relative Twitter newbie or a seasoned Twitter veteran, it's important to keep a few things in mind when you engage in our #SDNChat:
Your first #SDNChat tweet should be introductory, including your name, title and organization.
@SearchSDN will pose three questions to followers: Q1 (question 1) at 12 p.m., Q2 at 12:10 p.m. and Q3 at 12:20 p.m. Preface your tweeted answers to each question with A1 (answer 1), A2 or A3, then include #SDNChat. Each question will relate to the Open Networking Summit theme.
Remember that Twitter allows only 140 characters per tweet. You are welcome to tweet multiple responses to each question.
Use this tweetup as an opportunity to network and connect to others in the Twittersphere. Re-tweet responses you agree with and respond to tweets you might not agree with.
Please direct questions, RSVPs or other concerns to Michelle McNickle at mmcnickle@techtarget.com. We look forward to an engaging Twitter conversation and hope you can join us!
Dig Deeper on Network hardware and SDN