News
Stay informed about the latest enterprise technology news and product updates.
Overheard on Twitter: OpenDaylight launch and the future of SDN
The editors of SearchSDN scoured Twitter this week and saw users discussing the launch of OpenDaylight, the future of SDN and SDN architecture.
Each week, @SearchSDN explores Twitter to see what users are saying about software-defined networking, network virtualization, OpenFlow standards and more. Using Storify, we searched keywords, hashtags and tweetups to see what industry experts, bloggers and commenters had to say this week about the developing technology. This week, we saw Twitter users discuss the launch of OpenDaylight, the future of software-defined networking and SDN architecture.

Download this free guide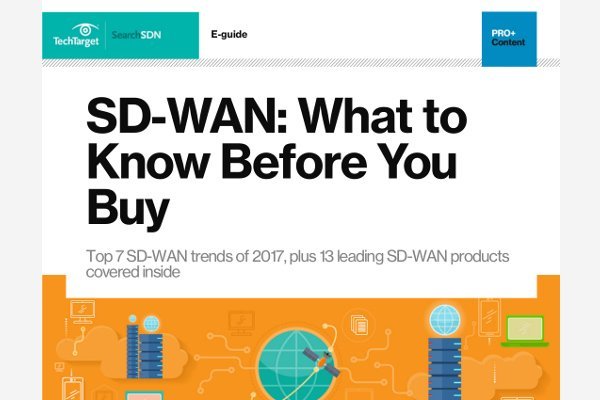 SD-WAN Buyer's Guide: What to Know Before You Buy
In this two-part guide, analyst Lee Doyle reveals the top 7 SD-WAN trends to watch for this year, and our editors compare 13 leading SD-WAN products in one handy infographic to help guide your purchasing decision.
By submitting your personal information, you agree that TechTarget and its partners may contact you regarding relevant content, products and special offers.
You also agree that your personal information may be transferred and processed in the United States, and that you have read and agree to the Terms of Use and the Privacy Policy.
OpenDaylight banter
OpenDaylight could, theoretically, make Nicira pointless.

— Bryan Beal (@bryanrbeal) April 9, 2013
Obvious question: How open can OpenDaylight be if representatives of member companies feel they can't discuss it?

— Brad Casemore (@BradCasemore) April 10, 2013
@bradcasemore OpenDayLight = FightClub

— Brian Gracely (@bgracely) April 10, 2013
Are people unsure of OpenDaylight because they fear the networking companies don't get open source? Clearly, most do.

— Kyle Mestery (@mestery) April 10, 2013
Is it just me or is the initial #opendaylight code dump kind of unimpressive

— Tom Flynn (@tflynn_dev) April 11, 2013
"OpenDaylight – An Open Source Community and Meritocracy for Software-Defined Networking" Yeap. Ding-ding-ding. /Cc: @littleidea @b6n

— Florian Otel (@FlorianOtel) April 8, 2013
Collaboration, innovation of key vendors via #OpenDaylight will help accelerate virtualized & software-defined networking solution adoption

— Krista Macomber (@klmacomber) April 8, 2013
Software defined networking is gaining momentum #opendaylight

— Abhijit Prabhudan (@abhijit116) April 9, 2013
SDN architecture
We need an internationally standardized measure of "orchestration" cluefulness. Everyone seems in on "orchestration" in #SDN these days

— Nils Swart (@NLNils) April 10, 2013
#OpenFlow -enabled Software Defined Networking (SDN) architecture. Interesting material. Curious on policy enforcement. #kpmgsecurity

— Jarno Roos (@jroos_kpmg) April 9, 2013
What's ahead for SDN
So...can we really consider installing the software on VM of what was once a network appliance...'software defined networking'. I'm not sure

— danielkennedy74 (@danielkennedy74) April 5, 2013
Cloudy with a chance of software defined networking.

— Jim Stogdill (@jstogdill) April 8, 2013
Software defined everything- #compute, #storage and #networking or should we simply call it #Virtualization?

— Srivatsan Venkatesan (@storcube) April 9, 2013
Software Defined Networking is all about allowing tenants to create their own address space independent of the fabric.#WSB313 #MMS2013

— Jerome Brown (@oWretch) April 9, 2013
Software Defined Networking.. Our future it seems

— Rahman Atta (@adigun_rah) April 11, 2013
Just had my first real software defined networking conversation with a customer. Interesting topic to talk about. Insight and Vision.

— Martin van Son (@DutchMartin) April 11, 2013
Dig Deeper on SDN research