News
Stay informed about the latest enterprise technology news and product updates.
Overheard on Twitter: The SDN and NFV relationship; plus SDN benefits
This week SearchSDN scoured Twitter for SDN banter and got an earful about SDN, NVF and future impacts of this emerging technology.
Each week, @SearchSDN explores Twitter to see what users are saying about software-defined networking, network virtualization, OpenFlow standards and more. Using Storify, we searched keywords, hashtags and tweetups to see what industry experts, bloggers and commenters had to say this week about the developing technology. This week, we saw Twitter users differentiate between SDN and NVF, and continue to discuss the benefits of SDN.

Download this free guide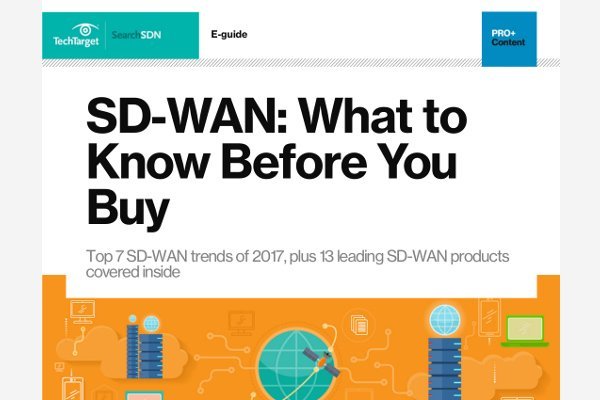 SD-WAN Buyer's Guide: What to Know Before You Buy
In this two-part guide, analyst Lee Doyle reveals the top 7 SD-WAN trends to watch for this year, and our editors compare 13 leading SD-WAN products in one handy infographic to help guide your purchasing decision.
One good thing for certain vendors stemming from #SDN and #NFV is it will spur C&SI work to implement the new #network architectures.

— Chris Antlitz (@chrisNMP) March 22, 2013
I seem to be a disruption in vendor meetings. #SDN & #NFV and the power of software. Get used to it.

— Jason Edelman (@jedelman8) March 20, 2013
#SDN and #NFV: Good for operators and consumers; bad for vendors. Will reshape #network architecture and commoditize incumbent vendors' biz.

— Chris Antlitz (@chrisNMP) March 22, 2013
Please stop equating #NFV with #SDN. Real abstractions req'd: They assume trust - trust in specifying and trust in implementation.

— Nils Swart (@NLNils) March 21, 2013
Difficult to see how vendors will benefit from #SDN & #NFV as these approaches will commoditize their hardware. I see lower future margins.

— Chris Antlitz (@chrisNMP) March 22, 2013
#SDN and #NFV will also extend hardware upgrade cycles because new applications can be virtually loaded onto the existing infrastructure.

— Chris Antlitz (@chrisNMP) March 22, 2013
The benefits of SDN
Switches? We don't need no stinkin' switches! We have software defined networking, ese!!

— Jorge Velázquez (@jorgesd) March 19, 2013
A benefit that can be overlooked w #SDN is security due to its out of band signaling, says Ed Rathke w #Verizon at #OFCNFOEC.

— Lynn Staggs (@verizonlynn) March 20, 2013
SDN = Software Defined Networking. Why bother? You can let go 10 network engineers and cut down provisioning time from 2 weeks to 4 days!

— JT (@jtantwtr) March 21, 2013
#SDN holds potential for new sources of revenue for carriers, says #Verizon engineer. #OFCNFOEC

— Lynn Staggs (@verizonlynn) March 20, 2013
SDN implementation and its impacts
Software defined networking is major disruptor - network tightly coupled with service & support 2sided business models - Brace, STL, #telco2

— Telco 2.0 Initiative (@telco2) March 19, 2013
"SDN isn't just about #OpenFlow"......Just what you would expect from anyone trying to make #SDN proprietary!

— Nick Burrows, CISSP (@NetCITADEL) March 21, 2013
#SDN & VLAN services to enterprises by operators will take off with the presence of a #smallcells system touch points inside

— SpiderCloud Wireless (@SpiderCloud_Inc) March 21, 2013
Dig Deeper on SDN network virtualization