News
Stay informed about the latest enterprise technology news and product updates.
Overheard on Twitter: SDN implementation, OpenFlow commentary
This week, SearchSDN scoured Twitter for SDN chatter, and got an earful about SDN implementation and OpenFlow.
Each week, @SearchSDN explores Twitter to see what users are saying about software-defined networking, architecture, network virtualization, OpenFlow standards and more. Using Storify, we search keywords, hashtags, tweetups and more to see what industry experts, bloggers and commenters have to say about the developing technology. This week, we got an earful about SDN implementation, OpenFlow and the future of SDN.

Download this free guide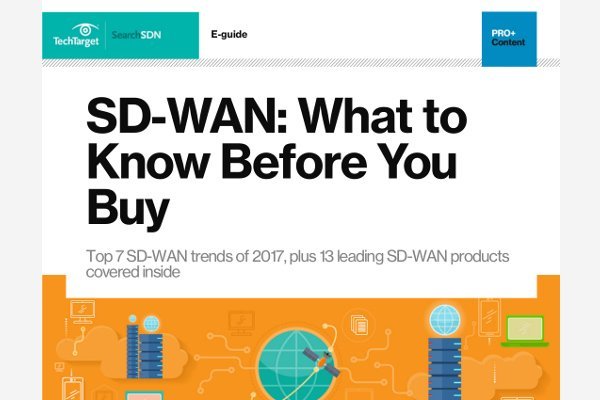 SD-WAN Buyer's Guide: What to Know Before You Buy
In this two-part guide, analyst Lee Doyle reveals the top 7 SD-WAN trends to watch for this year, and our editors compare 13 leading SD-WAN products in one handy infographic to help guide your purchasing decision.
By submitting your personal information, you agree that TechTarget and its partners may contact you regarding relevant content, products and special offers.
You also agree that your personal information may be transferred and processed in the United States, and that you have read and agree to the Terms of Use and the Privacy Policy.
The future of software-defined networking
Applications are the driving factor when planning and implementing a next-gen infrastructure that will be fueled by #SDN programmability.

— Anthony Rocca (@Anthony_Rocca) March 14, 2013
Software defined networking can enable a true revolution in government transformation.

— George Holland (@change_nation) March 13, 2013
#SDN & VLAN services to enterprises by operators will take off with the presence of a #smallcells system touch point inside.

— SpiderCloud Wireless (@SpiderCloud_Inc) March 15, 2013
SDN, OpenFlow, OpenStack, NSX -- I feel like every time I check my RSS feeds there's some new product to learn (maybe that will stop July 1).

— Jeremy Stretch (@packetlife) March 15, 2013
SDN implementation
Pro services are key emphasis on early #SDN adoption -- customers don't know how to implement in their own organization. #directions13

— Mark Towler (@MarkBTowler) March 13, 2013
PSA: Showing all the CLI commands to config your #SDN gear in a test bed does not a "reference architecture" make. #justsayin

— Lori MacVittie (@lmacvittie) March 18, 2013
SDN, virtualization and the cloud
SDN & virtualization, taken to the logical conclusion: the end of the 3GPP mobile architecture? If it's all service flows ...

— Gabriel Brown (@Gabeuk) March 13, 2013
@varga_sergio Agree! Software-defined networking is key for cloud networking standardization. #cloudchat

— Helvio Homem (@hcmhomem) March 14, 2013
#SDN, #SDDC, #Virtualization all about spatial concepts.

— Corné Bester (@corne_bester) March 13, 2013
Dig Deeper on SDN network virtualization