News
Stay informed about the latest enterprise technology news and product updates.
Will the VMware-Cisco partnership become irrelevant?
The VMware-Cisco relationship started out as a tech partnership but is turning into a war. Which company will control network virtualization and SDN?
VMware is not the easiest partner to have these days.
The company is so committed to being a disruptive force in the market that it apparently doesn't matter if disruption goes counter to the interests of existing partnerships.

Download this free guide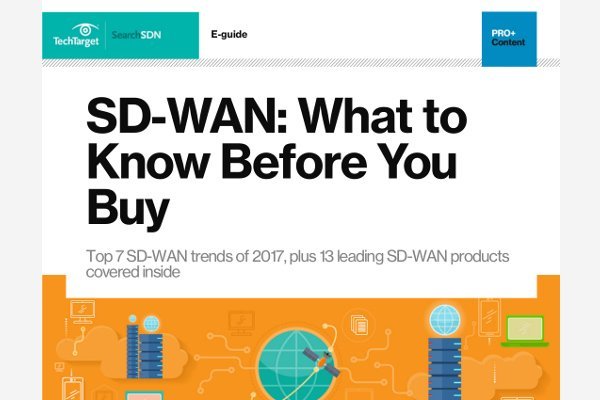 SD-WAN Buyer's Guide: What to Know Before You Buy
In this two-part guide, analyst Lee Doyle reveals the top 7 SD-WAN trends to watch for this year, and our editors compare 13 leading SD-WAN products in one handy infographic to help guide your purchasing decision.
After all, if you're a cloud provider running a VMware vCloud environment, you've got to be wondering how VMware Inc.'s entrance into the hybrid cloud market will affect your business. Will the company now take your subscription dollars?
Things aren't looking much brighter for the VMware-Cisco partnership, which lies at the heart of the VMware/Cisco/EMC (VCE) venture. VMware's network virtualization moves could transform the Cisco Systems partnership into a battle for control of the virtualized data center network.
Ironically, the VMware-Cisco relationship was an early indicator of VMware's commitment to network virtualization. VMware was the first major virtualization vendor to run Cisco's Nexus 1000V virtual switch. The Nexus 1000V has integrated well in the distributed virtual switch role, but it merely laid the groundwork for VMware's much more ambitious role in network virtualization. In fact, the Nexus 1000V added credence to the virtualized network concept, which began a natural progression of network virtualization maturity.
But VMware has a larger vision of controlling the entire data center with its software-defined data center (SDDC) strategy. That strategy has VMware management software managing and virtualizing not only the x86 server platform, but the entire data center, right down to the network too.
VMware's acquisition of Nicira will lend itself to this total control -- and could make Cisco and other networking vendors irrelevant. Since the Nicira acquisition, VMware has announced its SDN strategy, which includes a hypervisor-based network control plane. VMware (and SDN in general) looks to commoditize the hardware layer of the network stack just as it has the hardware layer of the x86 server hardware. This will be done by abstracting the control plane from the hardware layer.
By abstracting the control plane, networks can become completely programmable using a hardware-based distributed access layer that is controlled through a virtual management layer. And guess where you'd run this abstracted controller if VMware has any say in the matter? You guessed it: on a VMware-provided network hypervisor that is independent of the vSphere suite. Cisco has taken notice and gone on the offensive against SDN and what seems counter to the path that VMware has chosen for its SDDC strategy.
But for Cisco, taking on that fight will mean swimming against the stream -- i.e., where the larger networking industry is heading. I'd like to hear your thoughts on this shift: Is VMware looking to make Cisco irrelevant?
Email Keith at keith@virtualizedgeek.com.
Dig Deeper on SDN network virtualization