SDN use cases emerge across the LAN, WAN and data center
In this guide, learn how SDN in the network results in SDN use cases in the LAN, WAN, data center and cloud, as well as in service provider networks and within security.
Introduction
Software-defined networking use cases continue to emerge, playing very different roles throughout the network. SDN is in action in the LAN, WAN, data center, cloud and provider networks. However, challenges still exist in implementing the new technology, and they'll have to be overcome in each area of the network spectrum. This guide explores how SDN is being used in various parts of the network, taking into consideration network management, optimization, security and wireless technologies.
1

Data center

-
SDN in the data center
Virtualization has largely transformed the data center with flexible and automated server provisioning. But networking and storage infrastructure have not kept pace. In fact, they often serve as the bottleneck. Alan Earls, TechTarget contributor, writes that software-defined data center (SDDC) strategies could be key to moving this infrastructure to a more reliable state. The concept behind SDDC, he wrote, is to bring every aspect of an IT environment to parity through virtualization. "As a result, all infrastructure is delivered as a service and automated by software."
Meanwhile, SDN expert Lee Doyle writes that the relationship between data center network fabric and SDN will become increasingly important in creating SDDC. Scaling networks using SDN switches, and keeping an eye out for how SDN will play into big data, are all explored in this section about how SDN will transform the data center.
2

SDN outside the data center

-
SDN in the LAN and WAN
The benefits of SDN in the data center are clear, but looking outside the data center, SDN holds incredible potential in the LAN and WAN. The already difficult-to-manage WAN has become more complex with the rise of SaaS and BYOD, but SDN could play a role in easing the problem. SDN technologies address these challenges in the WAN with automated network provisioning and flexible links between data centers, writes SDN analyst Lee Doyle.
Meanwhile, OpenFlow and SDN could transform in the LAN, enabling unified wired and wireless management, new levels of security and tighter BYOD control.

Download this free guide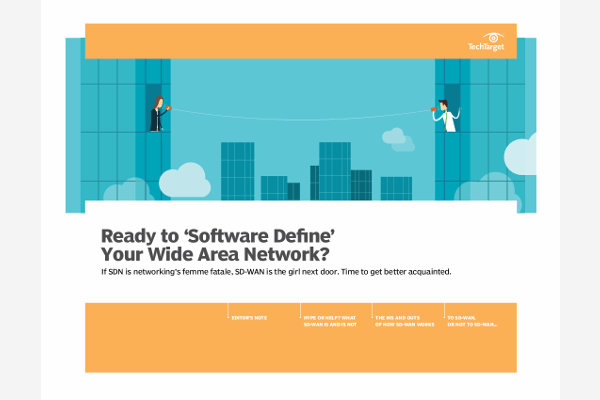 Free Guide: Software-Defined WAN 101
Our guide defines SD-WAN, explains its pros and cons, and helps networking professionals decide if it's right for their particular network.
3

SDN and service providers

-
Service providers look to SDN
Providers have taken a strong interest in SDN, especially when it comes to enabling the hybrid cloud. But a recent TechTarget survey shed some light on the general attitude of service providers toward SDN, writes site editor Jessica Scarpati: "While service providers are continuing to invest in conventional infrastructure, many are still slow to adopt more specialized or innovative technologies like cloud orchestration or software-defined networking."
This sentiment is echoed in another TechTarget survey, where cloud providers claimed that, although there's hype and interest around SDN, "adolescent" technologies are still too immature to implement, reports news writer Gina Narcisi. According to SDN expert Tom Nolle, a lack of standards, missing boundary functions and a need for multivendor network control, are all valid reasons that are blocking SDN provider adoption.
4

SDN and security

-
SDN's role in security
SDN has the potential to enhance network security and access control.
The technology offers a deeper level of visibility, which will mean more granularity in packet analysis and network monitoring. What's more, its centralized control could result in advanced network policy-setting and enforcement through visibility and the ability to route individual flows to specific devices.