Evaluate
Weigh the pros and cons of technologies, products and projects you are considering.
How SDN can make the WAN run better
This Network University Classroom considers the role of software-defined networking in the wide-area network and recent use cases that show how SDN can improve the WAN, making it more efficient and less expensive.
Introduction
In this university classroom, expert John Burke, of Nemertes Research, delves into the fascinating subject of how software-defined networking, or SDN, is likely to affect networking, with a focus on the WAN.
The role of SDN is well understood in the data center context, an adjunct to the evolution of private clouds and of data center virtualization generally.  SDN won't stop in the data center though, and will have a significant role among data centers and in how services are delivered to branches, and even in communications among branches.
While SDN's role in networking hasn't always been clear, compelling use cases are developing. SDN can make the WAN more functional and less expensive—so now is the time for networking pros to pay attention to SDN developments.
About the expert:  John Burke is a principal research analyst with Nemertes Research, where he advises key enterprise and vendor clients, conducts and analyzes primary research, and writes thought-leadership pieces across a wide variety of topics, including virtual networks and software-defined networking (SDN) technologies.    

Download this free guide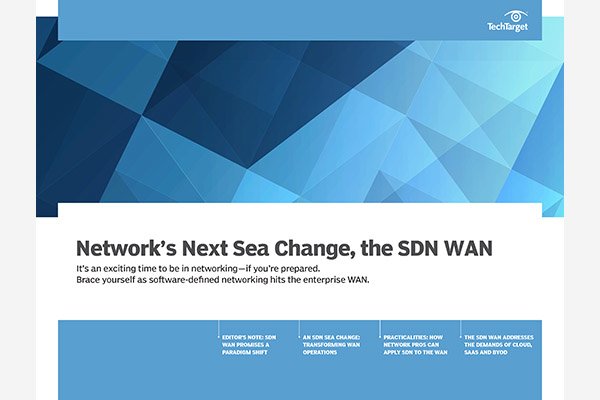 How SDN is Transforming WAN Operations: Free Handbook
Access our handbook now to navigate the waters of SDN in the WAN, with tips on overcoming implementation challenges, use cases for SD-WAN, and how to adjust to the altered network engineering career prospects that result.
By submitting your personal information, you agree that TechTarget and its partners may contact you regarding relevant content, products and special offers.
You also agree that your personal information may be transferred and processed in the United States, and that you have read and agree to the Terms of Use and the Privacy Policy.
1

Learning links

-
The role of SDN in the WAN
The role of software-defined networking (SDN) in a data center context is fairly clear, but not so obvious in networking. But that's going to change, says John Burke. In these three lessons, he examines recent developments in SDN, and how they could affect the WAN, including making it more secure and less expensive. He covers key terms and concepts you'll need to know to understand the once and future network. So view Burke's video presentation, listen to his podcast, and read his detailed technical tip to get a grasp on this new development that is likely the future of networking.
Tip
SDN's networking role has not always been clear, there are now some compelling use cases. Because SDN can make the WAN more functional and less expensive, networking pros should keep their eyes on SDN developments. Continue Reading
Video
Expert John Burke, of Nemertes Research, looks at how software-defined networking, or SDN, is likely to affect the WAN in the near future, and offers recommendations on how to prepare now. Continue Reading
Podcast
In this concise podcast, John Burke of Nemertes Research covers the top dos and don'ts for implementing SDN in the WAN. His concise advice will better prepare you and your network for an SDN age. Continue Reading