Evaluate
Weigh the pros and cons of technologies, products and projects you are considering.
Building SD-WAN architecture into your world
Get to know SD-WAN, networking's new kid on the block.
Introduction
Software-defined networking may have started in the data center, but it's since moved to the wide area network -- and with its promise to improve branch network connectivity while lowering costs and increasing agility, SD-WAN architecture is the most popular new kid on the networking block.
A plethora of startups and established industry players have now crowded on the scene, all offering variations on the same theme: technology that uses SDN principles to dynamically aggregate multiple WAN links, thus stepping up performance and decreasing reliance on costly MPLS connections. This essential guide will help you sidestep vendor hype and explore whether you're ready for SD-WAN to move into your network.
1

SD-WAN 101

-
Back to school: SD-WAN Architecture 101
Meet data center SDN's more approachable, down-to-earth cousin -- SD-WAN -- and learn all about SDN and software-defined technology. Then you'll see why many industry pros believe an SD-WAN architecture is the future of the wide area network.
2

Use cases

-
Problem-solver: SD-WAN use cases
In SDN's early days, skeptics bemoaned a lack of clearly defined use cases, so SD-WAN came on the scene like a breath of fresh air. Learn about the specific problems this technology can tackle in the wide area network.

Download this free guide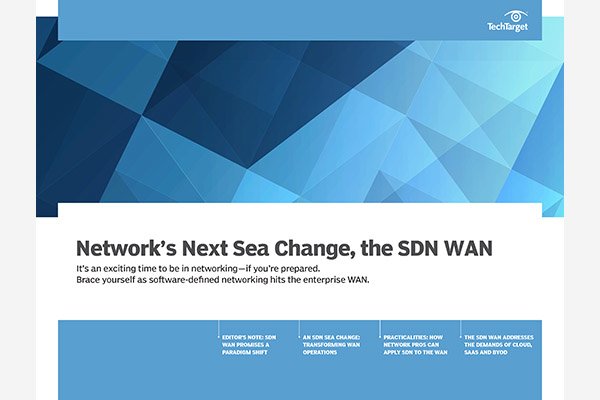 How SDN is Transforming WAN Operations: Free Handbook
Access our handbook now to navigate the waters of SDN in the WAN, with tips on overcoming implementation challenges, use cases for SD-WAN, and how to adjust to the altered network engineering career prospects that result.
3

Making the move

-
SD-WAN architecture: How to make the move
Top industry analysts expect software-defined WAN adoption to escalate dramatically. Here's what to consider before moving to an SD-WAN architecture.
4

Newsworthy

-
SD-WAN in the news
The SD-WAN architecture landscape is rapidly evolving. Keep abreast of the latest developments from vendors, managed service providers and users.
5

Terms to know

-
SD-WAN words you need to know
When implementing SD-WAN in your enterprise, there are important technology terms you must know. Learn the basics you need to know in our glossary.