Q
What is the difference between an overlay network and SDN?
A software-defined network can be deployed as an overlay network to a physical network or natively as the primary network to improve flexibility.
Using a network overlay is one way to implement an SDN architecture. An overlay network is a computer or storage network built on top of another network and connected by virtual or logical links. In the context of software-defined networks (SDNs), an overlay network uses virtual links to connect to the underlying physical network (e.g., Ethernet switches or routers).

Download this free guide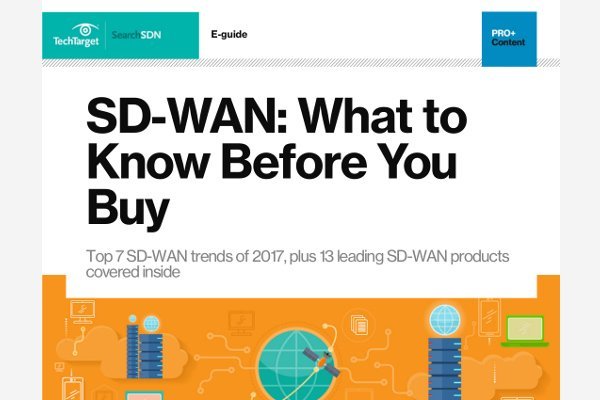 SD-WAN Buyer's Guide: What to Know Before You Buy
In this two-part guide, analyst Lee Doyle reveals the top 7 SD-WAN trends to watch for this year, and our editors compare 13 leading SD-WAN products in one handy infographic to help guide your purchasing decision.
With SDN implementations, the software-defined network can either be built as the logical network (e.g., with a server) or, more commonly, as an overlay on an existing physical Ethernet network consisting of switch and routers.
Physical networks are extremely efficient at moving packets at high speed and high reliability. The challenge that SDN is trying to address, however, is the ability to make the physical network more Agile so it can respond quickly to changes in network requirements -- for example, the provisioning of new compute workloads and virtual machine mobility.
It is likely that initially, the majority of SDN implementations will use SDN to improve the flexibility and operations of an existing physical network -- which would make it an SDN overlay network. As the technology matures, organization may decide to implement "native" SDN protocols as their primary network.
Network expert Lee Doyle explains the status of NFV deployment in 2018 and how open source, 5G and the internet of things can drive future changes. Continue Reading
Most people have experienced poor quality when it comes to real-time network traffic, like VoIP and video. But SD-WAN can help prioritize traffic and... Continue Reading
SDN and intent-based networking share more in common than hype about their promises and potential. Our expert weighs in on how the two technologies ... Continue Reading
Have a question for an expert?
Please add a title for your question
Get answers from a TechTarget expert on whatever's puzzling you.