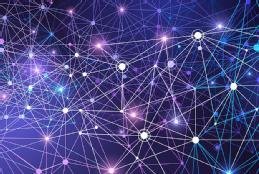 BACKGROUND IMAGE: Maksim Pasko/Fotolia
E-Handbook:
The many benefits of SD-WAN for today's networks
Article 2 of 4
Q
Get started
Bring yourself up to speed with our introductory content.
What are the advantages of SD-WAN adoption?
How can your organization take advantage of SD-WAN? Networking expert Lee Doyle explains how SD-WAN adoption can transform your WAN, and why you should consider making the switch.
For organizations considering SD-WAN adoption, software-defined WAN can offer internet connectivity advantages, like reduced cost and increased bandwidth, by alleviating concerns about internet reliability and security. Organizations with distributed workforces in remote and branch offices should consider SD-WAN adoption to implement hybrid WAN -- by combining MPLS and internet -- or internet-only connectivity.

Download this free guide
The many benefits of SD-WAN for today's networks
As organizations ponder the benefits of SD-WAN services, SearchSDN takes a look at how Monty Python analogies apply to SD-WAN.
SD-WAN uses software- and cloud-based technologies to simplify the delivery of WAN services to the branch office. SD-WAN uses a virtual overlay to abstract the underlying network connections. This overlay helps simplify network operations. SD-WAN adoption lets IT and business managers deploy internet-based connectivity easily, quickly, reliably and securely. Resulting advantages include ubiquity, increased bandwidth, reduced costs and improved application performance.
Internet circuits -- like Ethernet, DSL or cable -- are typically one-third to half the cost of MPLS links at comparable speeds. Internet services also have the advantages of wide availability and rapid provisioning times, compared with MPLS. To benefit from these internet-provided advantages, many organizations implement hybrid WAN architecture by dedicating MPLS links for mission-critical traffic and assigning internet connections for high-speed access to cloud- or SaaS-based applications, email, file transfers, storage and video applications.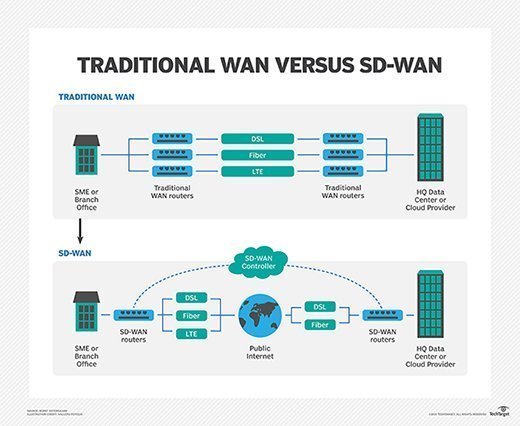 Early SD-WAN adoption success stories
Although in its early stages, SD-WAN adoption is seeing significant growth in a range of verticals and company sizes. A couple of interesting SD-WAN use cases include the following:
Retail and financial services organizations with a large number of remote or branch offices have initiated SD-WAN adoption to provide direct internet access at the branch for applications, like guest Wi-Fi, and employee access to cloud and SaaS applications.
Construction companies and other organizations with temporary work locations are implementing SD-WAN architecture to enable secure and reliable internet connectivity to corporate data centers and the cloud.
Branch users relying on unified communications applications have deployed SD-WAN to reduce jitter and packet loss in voice and video traffic.
Service providers are also deploying SD-WAN technology to offer managed hybrid WAN services to their business customers.
A number of large, midsize and startup technology providers offer SD-WAN services. Some of these providers include Cisco, Riverbed Technology, Silver Peak, Talari Networks, VeloCloud, Viptela -- recently acquired by Cisco -- Nuage Networks and CloudGenix.
SD-WAN advantages make a solid argument for adoption
So, are the SD-WAN advantages enough to compel adoption? SD-WAN architecture is a new approach to connecting the WAN that offers compelling advantages for distributed organizations with critical branch office operations.
Other SD-WAN advantages of adoption include the benefits of business agility, increased security, improved application performance and lower bandwidth costs. IT organizations should consider implementing hybrid WAN architectures to capitalize on the performance and cost benefits of internet circuits -- especially for cloud-based applications.
Hyper-convergence combined with software-defined networking architecture might seem like hyper-hype, but SDN offers many network capabilities ... Continue Reading
Network expert Lee Doyle explains the status of NFV deployment in 2018 and how open source, 5G and the internet of things can drive future changes. Continue Reading
Most people have experienced poor quality when it comes to real-time network traffic, like VoIP and video. But SD-WAN can help prioritize traffic and... Continue Reading
Have a question for an expert?
Please add a title for your question
Get answers from a TechTarget expert on whatever's puzzling you.