Q
What are the top NFV platforms?
Networking expert Lee Doyle details the requirements for NFV infrastructure and the leading NFV platform options -- OpenStack and VMware's vCloud NFV.
As service providers report a number of successful production deployments of network functions virtualization, it is important to consider the infrastructure beneath it all -- and the available options. The leading NFV platforms are OpenStack and VMware's vCloud NFV. But service providers can choose from a number of OpenStack options, including sourcing from a supplier or open source internal development.

Download this free guide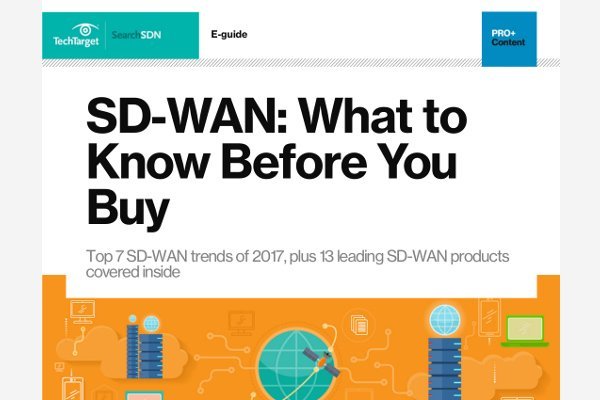 SD-WAN Buyer's Guide: What to Know Before You Buy
In this two-part guide, analyst Lee Doyle reveals the top 7 SD-WAN trends to watch for this year, and our editors compare 13 leading SD-WAN products in one handy infographic to help guide your purchasing decision.
Use cases for NFV platform deployments vary widely and include wireless core networks, customer premises equipment, routing, security and the internet of things. During the second half of 2017 and throughout 2018, leading service providers will deploy NFV at scale with additional applications across their networks.
Requirements for NFV infrastructures include scalable, reliable and low-latency software platforms for application virtualization. Service providers -- with their millions of users -- deploy data centers differently than the typical large enterprise or hyperscale cloud providers. NFV compute resources are distributed in tiers that include centralized cores, aggregation points and local points of presence.
NFV infrastructure has a number of requirements, including the following:
Customized IT standards to deliver high-performance network applications;
A broad application ecosystem -- through partnerships with dozens of independent software vendors and network equipment providers; and
The ability to integrate NFV applications within legacy network architectures and link to existing operational and billing systems.
NFV infrastructure software platforms
The primary OpenStack and VMware vCloud NFV platforms are detailed below.
OpenStack: OpenStack is a set of open source software tools for building and managing cloud computing architectures. It enables service providers to provision and orchestrate pools of data center resources across compute and storage. Service providers implementing OpenStack for NFV infrastructure include: AT&T, Verizon, XO Communications, Comcast, Time Warner Cable, NTT, SK Telecom, China Mobile Ltd., China Unicom, Deutsche Telekom, Swisscom, British Telecom Group and Telefónica. Service providers can buy OpenStack platforms from a number of suppliers, including Red Hat, Dell, Hewlett Packard Enterprise, Ericsson, VMware and Mirantis, or deploy via internal development on open source.
VMware vCloud NFV: VMware is the leading provider of virtualization software to large enterprises, including the internal IT departments of most large service providers. VMware's vCloud NFV is an integrated, modular, multi-tenant infrastructure platform optimized for service providers deploying NFV. VMware has more than 80 NFV deployments with more than 45 service providers. It has certified more than 34 NFV applications for virtual network functions as part of its VMware Ready for NFV partner VNF-compatibility program. VMware's Integrated OpenStack enables service providers to quickly deploy NFV applications on OpenStack platforms.
Network expert Lee Doyle explains the status of NFV deployment in 2018 and how open source, 5G and the internet of things can drive future changes. Continue Reading
Most people have experienced poor quality when it comes to real-time network traffic, like VoIP and video. But SD-WAN can help prioritize traffic and... Continue Reading
SDN and intent-based networking share more in common than hype about their promises and potential. Our expert weighs in on how the two technologies ... Continue Reading
Have a question for an expert?
Please add a title for your question
Get answers from a TechTarget expert on whatever's puzzling you.