Q
Should I use the OpenFlow protocol in software-defined networks?
The OpenFlow protocol isn't required for SDN, although the Open Network Foundation recommends it, which means networking vendors have options.
Do you need to use the OpenFlow protocol in a software-defined network?
The OpenFlow protocol is not required to implement a software-defined network (SDN) to separate the data path from the control plane and tell network switches where to send packets. SDN architectures will take many different approaches, and each technology vendor will have a unique take on how to implement SDN.

Download this free guide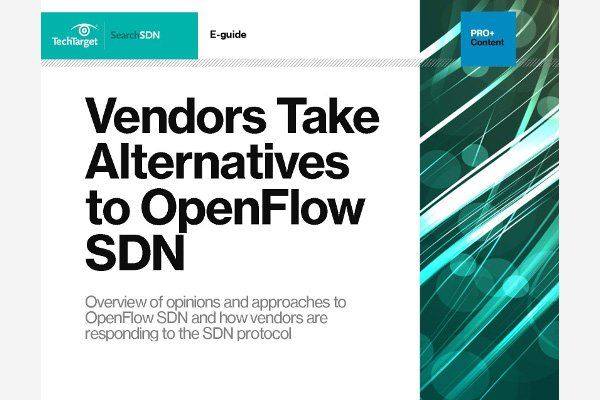 Instant Download: Essential Guide on OpenFlow SDN
Get the articles of this essential guide in one downloadable e-guide, and learn about the varying approaches to OpenFlow SDN and how vendors are responding to the SDN protocol - all in a PDF that you can save and share with your colleagues.
For the OpenFlow community that uses standards developed by the Open Network Foundation (ONF) consortium, however, the answer is yes. The ONF recommends using OpenFlow as the foundation technology for SDN implementation. For many suppliers, including Big Switch, HP, IBM, Dell, Pica8, NEC and many others, OpenFlow is a fundamental part of their SDN offerings.
Many other suppliers may support OpenFlow, but the protocol is not of the key to their SDN architectures. For example, Cisco's SDN architecture, Open Network Environment, supports OpenFlow, but Cisco does not require the use of OpenFlow. Other suppliers that offer SDN solutions that do not depend on the OpenFlow protocol include Juniper, Brocade, Avaya, ADARA, LineRate, Embrane, Nicira (now part of VMware), PlumGrid, Pertino Networks, Plexxi and many others.
Network expert Lee Doyle explains the status of NFV deployment in 2018 and how open source, 5G and the internet of things can drive future changes. Continue Reading
Most people have experienced poor quality when it comes to real-time network traffic, like VoIP and video. But SD-WAN can help prioritize traffic and... Continue Reading
SDN and intent-based networking share more in common than hype about their promises and potential. Our expert weighs in on how the two technologies ... Continue Reading
Have a question for an expert?
Please add a title for your question
Get answers from a TechTarget expert on whatever's puzzling you.