Q
Should I invest in formal SDN training, certification?
Network engineer and software-defined networking pro Will Murrell considers whether formal SDN certification and training is worth the time, expense and effort.
So, you want to learn about software-defined networking? Makes sense; you wouldn't be here otherwise. But do you really need formal SDN training and/or certifications? Here's the deal: It really boils down to what you are going to do with that knowledge.

Download this free guide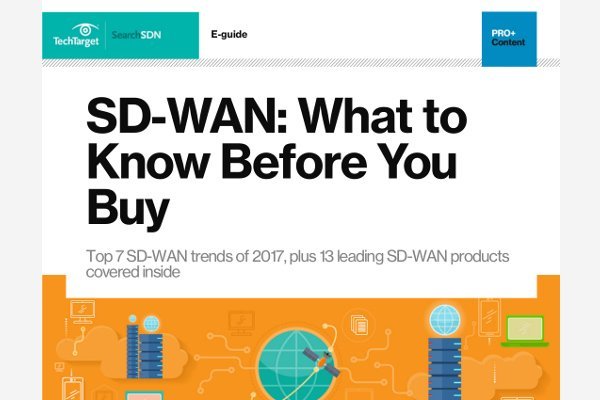 SD-WAN Buyer's Guide: What to Know Before You Buy
In this two-part guide, analyst Lee Doyle reveals the top 7 SD-WAN trends to watch for this year, and our editors compare 13 leading SD-WAN products in one handy infographic to help guide your purchasing decision.
Are you trying to get your skills up to snuff, because you're on a job hunt? If the answer is "yes," then formal SDN training isn't a bad idea. Certifications -- while not entirely necessary -- can make your résumé stand out from the sea of other candidates.
Currently, the only SDN certifications on the market that target general theory are two from the Open Networking Foundation, which has also partnered with a few companies to provide formal SDN training.
In terms of vendor-specific SDN training, Cisco offers a Cisco Network Programmability Design Specialist certification for ACI users, and VMware has a multilevel NSX certification, with a network virtualization focus. If you're going to be working with these technologies specifically, or plan to target a particular position related to ACI or NSX, SDN certification could benefit you.
If, on the other hand, you're just looking into the technology because you're interested in it, a wealth of free learning resources already exist online -- no need to invest in formal SDN training. There are some cool environments to play with, such as Mininet, which lets you build virtual networks. You'll be able to learn about OpenFlow and how to interact with some of the open source controllers, such as Ryu or OpenDaylight. You can even build out your own physical network, using things like residential wireless routers, flashed with OpenWrt firmware with Open vSwitch installed, and using a controller installed on a Raspberry Pi. The information is out there, ready for you to consume it.
Our SDN expert looks at how the ONOS SDN platform uses an Intent Framework to let apps make their networking needs known to the controller using ... Continue Reading
SDN expert Will Murrell addresses how many software-defined networking controllers organizations need for policy control and network management and ... Continue Reading
SDN expert Will Murrell discusses how the advantages of SDN will speak to cautious companies only when network engineers can make a case for SDN's ... Continue Reading
Have a question for an expert?
Please add a title for your question
Get answers from a TechTarget expert on whatever's puzzling you.