Q
SDN network interoperability: Integrating with existing networks
Derick Winkworth outlines whether it's possible to reach SDN network interoperability.
Question: How will software-defined networking (SDN) interoperate with an existing infrastructure?
Broadly speaking, SDN solutions will interoperate with the rest of your infrastructure through standard protocols and APIs. Exactly how this manifests in a given SDN solution is determined by what type of SDN product it is and its intended use. We can divide interoperability into two layers: infrastructure and services.

Download this free guide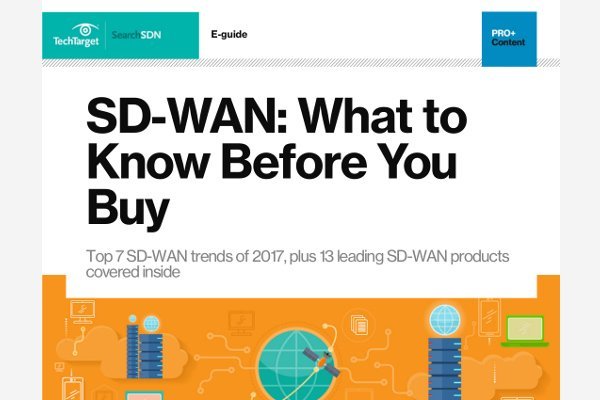 SD-WAN Buyer's Guide: What to Know Before You Buy
In this two-part guide, analyst Lee Doyle reveals the top 7 SD-WAN trends to watch for this year, and our editors compare 13 leading SD-WAN products in one handy infographic to help guide your purchasing decision.
On the lower layer, infrastructure interoperability is how an SDN network communicates with other networks -- this is where the use of existing standard protocols makes the most sense. Increasingly, SDN vendors are supporting protocols such as BGP and OSPF. In an overlay solution, the gateway services node would likely be the interface to external networks. In an underlay solution, the SDN controller (or application on top of the controller) is the likely interface, but there are underlay SDN solutions that do not require a controller to do this.
On the higher "services" layer is where most of the SDN magic will happen. Intelligently managing the resources of the network according to high-level, infrastructure-wide policies will require SDN vendors to interact with the systems and applications that the network supports. The services layer itself is generally divided into categories: operations and service differentiation.
SDN vendors should be integrating with infrastructure management tools to improve the operational footprint of the network. In addition to lower overall costs, SDN vendors can integrate with the surrounding systems to provide differentiated services on the network. Whether it's operations or service differentiation, inoperability at this layer happens through the APIs and software development kits of those surrounding systems, or through native integration.
Read more SDN questions and answers
Have a question for an expert?
Please add a title for your question
Get answers from a TechTarget expert on whatever's puzzling you.