Q
Get started
Bring yourself up to speed with our introductory content.
Is SDN a centralized or distributed network architecture?
A software-defined network can have a centralized or distributed network architecture in the data center, LAN and WAN, depending on business needs.
Is SDN a distributed or centralized architecture?
Let's start with what a distributed network architecture can mean in the context of software-defined networking (SDN). Distributed networking, as opposed to centralized, can describe varying degrees of centralization to decentralization communications via a network. With regard to software-defined network architecture, distributed communications will apply to the following elements:

Download this free guide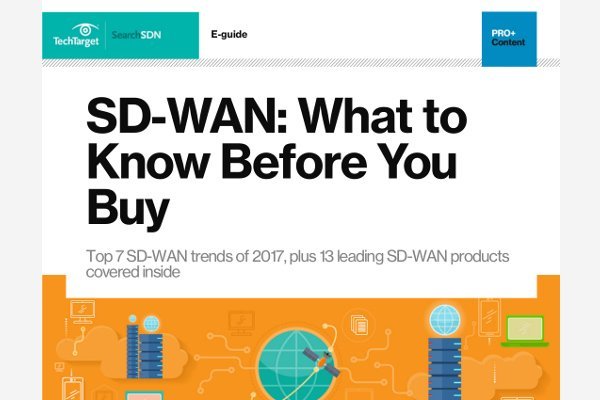 SD-WAN Buyer's Guide: What to Know Before You Buy
In this two-part guide, analyst Lee Doyle reveals the top 7 SD-WAN trends to watch for this year, and our editors compare 13 leading SD-WAN products in one handy infographic to help guide your purchasing decision.
By submitting your personal information, you agree that TechTarget and its partners may contact you regarding relevant content, products and special offers.
You also agree that your personal information may be transferred and processed in the United States, and that you have read and agree to the Terms of Use and the Privacy Policy.
Intraserver traffic within the data center
Local area networks (LANs) with connections to compute and storage resources located elsewhere
Wide area networks (WANs): geographically distributed networks.
If we define communications within the data center as the most centralized and WANs as the most distributed, we can think of the Internet as an example of a highly decentralized network.
The network industry has debated the benefits and drawbacks of highly centralized and highly distributed network architectures for decades. In general, "centralized" means faster and easier to manage, and "decentralized" means the ability to scale and redundancy (e.g., "five 9s" or 99.999% reliability).
SDN technology can and will be deployed across a wide range of network architectures, which means we'll see SDN within the data center, SDN in the campus LAN and SDN in the WAN. A number of suppliers describe their SDN offerings as "distributed," including IBM's Distributed Overlay Virtual Network (DOVE) and ConteXtream's distributed virtual layer 4-7 switch.
So the short answer is yes -- software-defined networks can either be centralized in a single data center or distributed across a campus or wide area network, depending on the needs of the organization or service provider.
Dig Deeper on Network hardware and SDN
Network expert Lee Doyle explains the status of NFV deployment in 2018 and how open source, 5G and the internet of things can drive future changes. Continue Reading
Most people have experienced poor quality when it comes to real-time network traffic, like VoIP and video. But SD-WAN can help prioritize traffic and... Continue Reading
SDN and intent-based networking share more in common than hype about their promises and potential. Our expert weighs in on how the two technologies ... Continue Reading
Have a question for an expert?
Please add a title for your question
Get answers from a TechTarget expert on whatever's puzzling you.