Q
How does SDN automation work?
Expert Lee Doyle explains how software-defined networking enables network automation -- leading to lower costs, faster provisioning and better scalability.
Software-defined networking gives IT organizations deploying large data centers and complex applications the ability to automate the rapid provisioning of network resources. Leading IT organizations are rapidly adopting cloud-centric architectures and converged DevOps teams to accelerate application development and reduce costs.

Download this free guide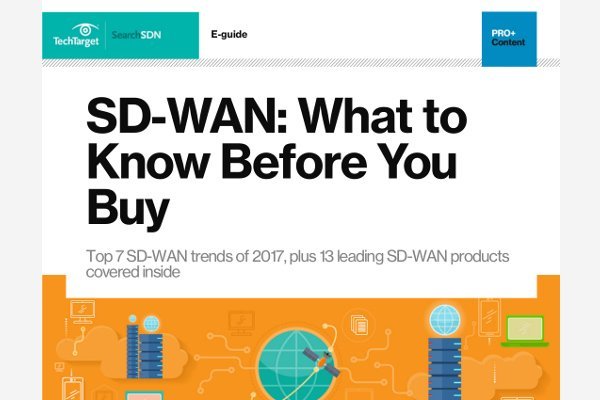 SD-WAN Buyer's Guide: What to Know Before You Buy
In this two-part guide, analyst Lee Doyle reveals the top 7 SD-WAN trends to watch for this year, and our editors compare 13 leading SD-WAN products in one handy infographic to help guide your purchasing decision.
The DevOps style of application development requires rapid provisioning, scalable resources and automated operations to flexibly deliver IT services. The challenge is that the traditional methods of network provisioning (e.g. manually configuring each device) can't scale to meet the demands of large data centers or complex distributed applications (e.g. Hadoop, big data and Internet of Things).
SDN automation can reduce operational costs by shifting the challenges of configuration from people to technology. IT organizations need technology to help architect the processes necessary to provision the various network services -- including security policies -- required by an application. Many hyperscale cloud providers, including Google, Apple, Facebook and Microsoft, have already deployed SDN automation technologies to help provision and manage their networks.
SDN-based networks can detect changes in traffic flow and select the path data takes through a network based on parameters such as application type, quality of service and security rules. SDN provides application program interfaces (APIs) that enable flexible end-to-end configuration of services across many network devices. These APIs can be employed by orchestration and cloud management systems to request changes in the network. Thus, SDN automation can direct the network to provide services aligned with its associated applications and support rapid deployment of a large number of new applications and microservices, such as containers.
Network expert Lee Doyle explains the status of NFV deployment in 2018 and how open source, 5G and the internet of things can drive future changes. Continue Reading
Most people have experienced poor quality when it comes to real-time network traffic, like VoIP and video. But SD-WAN can help prioritize traffic and... Continue Reading
SDN and intent-based networking share more in common than hype about their promises and potential. Our expert weighs in on how the two technologies ... Continue Reading
Have a question for an expert?
Please add a title for your question
Get answers from a TechTarget expert on whatever's puzzling you.