Fotolia
Q
Evaluate
Weigh the pros and cons of technologies, products and projects you are considering.
How do IoT sensors intersect with SD-WAN?
Most traditional WANs can't handle the increasing number of IoT sensors -- and the data they collect. But SD-WAN can help improve IoT performance and analysis.
One common theme regarding failed internet-of-things, or IoT, projects tends to be a lack of planning and foresight put into the underlying network. So often, the focus is placed on the configuration and deployment of IoT sensors, what data they're going to collect and where that data will eventually be stored.

Download this free guide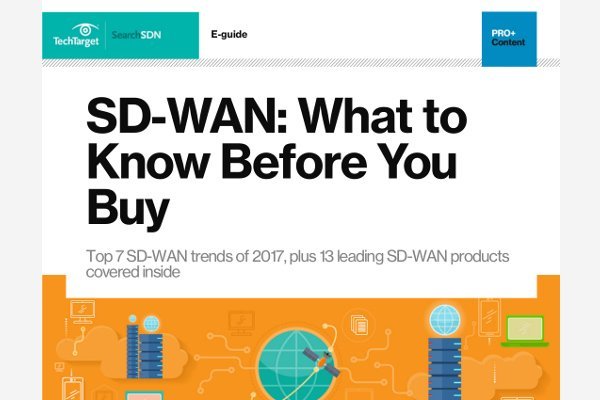 SD-WAN Buyer's Guide: What to Know Before You Buy
In this two-part guide, analyst Lee Doyle reveals the top 7 SD-WAN trends to watch for this year, and our editors compare 13 leading SD-WAN products in one handy infographic to help guide your purchasing decision.
While the network is certainly a key component when transmitting IoT data from point A to point B, proper network design for IoT is far more involved than many expect. This is especially true when IoT sensors are widely dispersed across a wide area network.
Many IoT use cases require real-time analysis of data that may be collected by dozens, hundreds or thousands of sensors. In most instances, the collected data is sent back to a centralized repository, where it is pooled and ultimately analyzed in various ways. Time is of the essence, and analysis requires fast and reliable connectivity between each of the IoT sensors and the data repository. Traditional WAN links may not be able to provide the network intelligence necessary to move IoT data across the WAN in the optimal method possible.
Traditional WAN links may not be able to provide the network intelligence necessary to move IoT data across the WAN in the optimal method possible.
This is where IoT must rely on new technologies, like software-defined WAN (SD-WAN). The overall concept behind SD-WAN is to combine two or more WAN links with artificial intelligence, so data will traverse the optimal path toward its final destination. Network administrators primarily use a combination of internet broadband links and private carrier links, like MPLS. Once the WAN links connect the remote IoT sensors with the centralized IoT data repository, SD-WAN administrators can configure the WAN to identify critical IoT data, prioritize it and choose the fastest path from all connectivity options.
SD-WAN helps eliminate unwanted WAN congestion or outages on WAN links by automatically detecting problems and routing around them, so IoT data can consistently move across the WAN without interruption. SD-WAN also helps cut costs in certain deployment scenarios. For example, SD-WAN use may allow IoT sensors to connect using two or more broadband internet connections.
Because of SD-WAN's ability to choose the best path, many enterprises are finding more expensive MPLS links unnecessary. So, not only can SD-WAN increase the performance of your IoT collection, it can also save you money.
Dig Deeper on SDN architecture
When it comes to SDN and programmable network skills, combining training with practice and hands-on experience can help advance your programming ... Continue Reading
The ability to automate networks isn't new, and while the benefits of SDN reach out to encompass aspects of automation, SDN and network automation ... Continue Reading
Commercial SDN offers vendor-backed support, while open source platforms can be upgraded more quickly. Whether an enterprise chooses one over the ... Continue Reading
Have a question for an expert?
Please add a title for your question
Get answers from a TechTarget expert on whatever's puzzling you.