Brian Jackson - Fotolia
Q
Evaluate
Weigh the pros and cons of technologies, products and projects you are considering.
How do I choose between commercial SDN and open source?
Commercial SDN offers vendor-backed support, while open source platforms can be upgraded more quickly. Whether an enterprise chooses one over the other depends on its preferences.
With commercial SDN and open source options readily available, enterprises have to outline the key considerations between the two in order to determine the best choice.

Download this free guide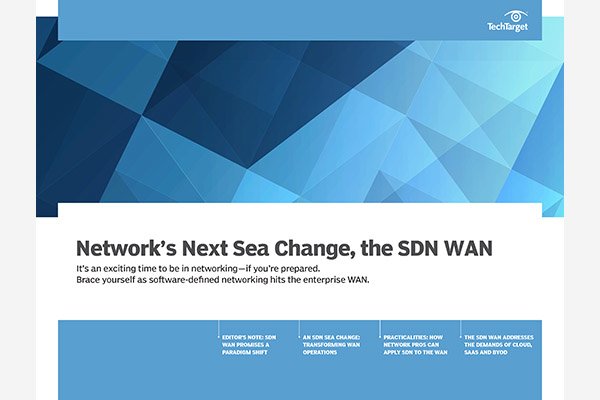 How SDN is Transforming WAN Operations: Free Handbook
Access our handbook now to navigate the waters of SDN in the WAN, with tips on overcoming implementation challenges, use cases for SD-WAN, and how to adjust to the altered network engineering career prospects that result.
When software-defined networking started to take a foothold in enterprise IT, commercial vendors were caught off guard. The whole idea of SDN is software controls all facets of the network from a centralized control plane. This includes routing, switching, wireless, and various network-based security and load-balancing tools. Because commercial vendors created proprietary, closed-source software, they couldn't achieve the true end-to-end management and visibility that open source alternatives provided out of the gate.
In the end, there's no right or wrong answer to commercial SDN vs. open source options. It all boils down to what your organization values more.
It didn't take long, however, for commercial vendors to begin using APIs to allow integration of their product lines with nonproprietary network components. By providing the necessary hooks into network software, APIs allow compatibility that resembles open source, while still maintaining control over the underlying source code. So, in a sense, vendors using APIs have largely eroded the primary benefit of using open source SDN platforms over the past few years. Additionally, enterprise customers can expect superior levels of support when choosing a commercial SDN option.
That said, the other benefit of open source is the speed with which the software can evolve over time, which makes it flexible. Open source projects tend to roll out new features and capabilities more quickly. With a commercial SDN offering, however, you're stuck with the vendor's vision and timing in terms of when new features are released.
The key decision point your organization needs to consider in 2018 is whether it would benefit more from the superior support of a commercial SDN platform versus rapid open source software feature releases. In the end, there's no right or wrong answer to commercial SDN vs. open source options. It all boils down to what your organization values more.
Dig Deeper on SDN use cases
When it comes to SDN and programmable network skills, combining training with practice and hands-on experience can help advance your programming ... Continue Reading
The ability to automate networks isn't new, and while the benefits of SDN reach out to encompass aspects of automation, SDN and network automation ... Continue Reading
SD-WAN as a service can act as a bridge between mobile users who want to access business apps on the go and network managers who want to manage and ... Continue Reading
Have a question for an expert?
Please add a title for your question
Get answers from a TechTarget expert on whatever's puzzling you.