JNT Visual - Fotolia
Q
Get started
Bring yourself up to speed with our introductory content.
Does software-defined networking architecture need network overlays?
Network overlays and software-defined networking architecture share a history. But while overlays offer flexibility, they also bring extra overhead and troubleshooting complications.
A network overlay is a method used to abstract underlying network hardware, software and protocols. Early on, network overlays were designed with the sole purpose of creating multiple, separated networks on shared physical hardware. The primary use-case scenario was when a cloud service provider wanted to segment customer traffic without having to use separate hardware or network connections.

Download this free guide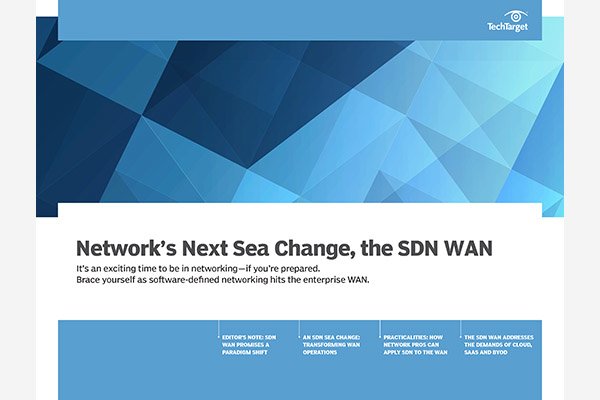 How SDN is Transforming WAN Operations: Free Handbook
Access our handbook now to navigate the waters of SDN in the WAN, with tips on overcoming implementation challenges, use cases for SD-WAN, and how to adjust to the altered network engineering career prospects that result.
Over time, network overlays were adapted to create an end-to-end, software-defined networking architecture using legacy network hardware and software -- or to create an SDN across incompatible network vendor equipment. Using this architecture, overlay software can be used to create a virtual, end-to-end network for centralized control plane purposes related to SDN.
The flexibility benefits must be gauged against performance when looking at network overlay options for software-defined networking architecture.
Commercial network vendors offer several network overlays to fit with software-defined networking architecture. There are also many available open source options. While some users praise the flexibility of network overlays, others are quick to point out faults. For example, adding yet another layer of abstraction to an already heavily virtualized data center and campus network can further complicate troubleshooting processes.
Additionally, one must consider the extra overhead that is consumed by running an abstracted software layer on top of hardware. Overlays can be slow when compared to native SDN options that run directly on application-specific integrated circuits.
The flexibility benefits must be gauged against performance when looking at network overlay options for software-defined networking architecture. In many cases, IT leadership may choose to go with an SDN overlay as a temporary stopgap to gain SDN benefits without an expensive and time-consuming network upgrade. Yet, as time moves on, it's likely that overlay approaches will give way to hardware and software that is specifically designed to provide all the benefits of software-defined networking architecture without the overhead.
Dig Deeper on Network overlay software
IT teams thinking about software-defined WAN technology should assess a few SD-WAN security concerns before deployment to make sure it's worth the ... Continue Reading
When it comes to SDN and programmable network skills, combining training with practice and hands-on experience can help advance your programming ... Continue Reading
The ability to automate networks isn't new, and while the benefits of SDN reach out to encompass aspects of automation, SDN and network automation ... Continue Reading
Have a question for an expert?
Please add a title for your question
Get answers from a TechTarget expert on whatever's puzzling you.