CenturionStudio.it - Fotolia
Evaluate
Weigh the pros and cons of technologies, products and projects you are considering.
The case against SDN implementation
Networking expert and SDN enthusiast Patrick Hubbard plays devil's advocate, arguing against SDN implementation and exploring why it may be a bad idea.
This Article Covers
RELATED TOPICS
Looking for something else?
TECHNOLOGIES
If you're reading this, it's probably safe to assume you're following the topic of software-defined networking (SDN) and are likely eager to see broad SDN implementation. Full disclosure, I'm also a huge proponent of SDN, as evidenced by the past guest posts I've written covering its challenges, as well as its considerable potential to transform the way we deploy and manage our networks. But in some corners of IT, I'm seeing pushback to the core premise of automation. And so we must consider the possibility that SDN adoption isn't an obvious slam dunk. To play devil's advocate, what happens if organizations just say no to SDN?

Download this free guide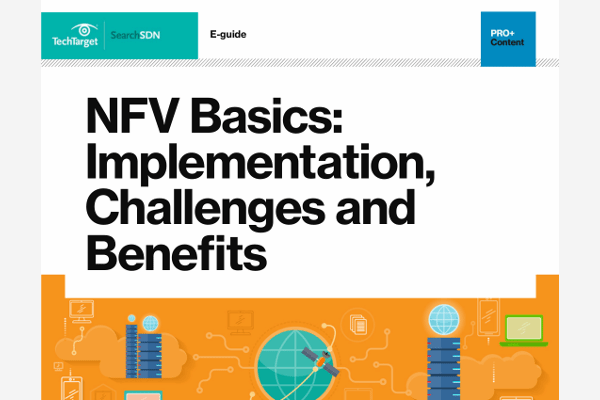 Download Our New NFV Essential Guide Collection Now
In this Essential Guide, we explore NFV implementation basics, potential benefits, current issues, and vendor approaches to the new technology. Get your copy now.
By submitting your personal information, you agree that TechTarget and its partners may contact you regarding relevant content, products and special offers.
You also agree that your personal information may be transferred and processed in the United States, and that you have read and agree to the Terms of Use and the Privacy Policy.
Cautionary Tale of IPv6
Believe it or not, IPv6 was once the next big thing. It would not just address an IP address allocation problem, the thinking went, but would also surely revolutionize our networks. Networking pros spoke to management, built labs and developed plans for deployment. Why then didn't IPv6 succeed? Why did network administrators collectively fold their arms, lean back on their 10 dots and skip a hype cycle-driven deployment effort?
The answer is that the undertaking was just too big, and it invited naysayers -- a challenge SDN implementation might share.
IPv6 deployment isn't for the faint of heart. It's everywhere, from the core to desktops to Web servers. It creates duplicate security vulnerabilities and involves gateways, tunneling and legacy protocol encapsulation.
Sound familiar? With SDN you have many of the same challenges, but even more. For example:
So, while it's true IPv6 is a one-trick pony compared to SDN, they both offer plenty of hooks for reluctant IT management to hang objections on. And in pan-enterprise projects, that's often all that's required to stall adoption. It's just too easy, or even tempting, for casually connected influencers to say "no" to SDN with little understanding of whether the risks can be mitigated.
But SDN is so plainly awesome!
It seems somewhat heretical to even doubt the eventuality of software-managed everything -- it's just so obviously The Right Thing to Do. And as long as SDN is a component of network as a service provided by containers, cloud or controller overlay, rank-and-file admins will adopt it because they won't have a choice. Momentum drives real change.
But it's also possible, especially in the networks of small and medium-sized businesses, that management will dig in their heels and block SDN adoption. Perhaps some will feel their business is too unique. Others may resist upsetting budgetary and political fiefdoms. And some may simply feel safer with distributed human administration.
How many other uber, pan-org projects have failed? Why should SDN be different?
Dig Deeper on SDN strategy and ROI
PRO+
Content
Find more PRO+ content and other member only offers, here.