SSilver - Fotolia
News
Stay informed about the latest enterprise technology news and product updates.
SDN blogs: SDN in telecom; Cuckoo hashing; what is ONIE?
This week, SDN bloggers explore the future of SDN in telecom, Cuckoo hashing, the Open Network Install Environment, and the ONF's OpenFlow Conformance Testing Program.
Looking for something else?
We rounded up this week's best SDN blogs on the Web. Bloggers took a look at how software-defined networking (SDN) will impact the telecom space, how to improve flow-based hashing with Cuckoo hashing, what the Open Network Install Environment is, and the first birthday of the ONF's OpenFlow Conformance Testing Program.

Download this free guide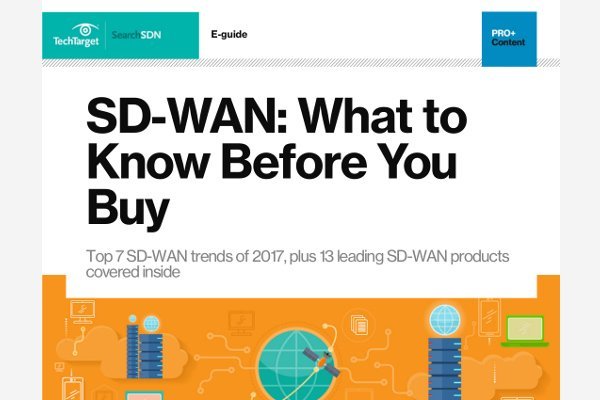 SD-WAN Buyer's Guide: What to Know Before You Buy
In this two-part guide, analyst Lee Doyle reveals the top 7 SD-WAN trends to watch for this year, and our editors compare 13 leading SD-WAN products in one handy infographic to help guide your purchasing decision.
By submitting your personal information, you agree that TechTarget and its partners may contact you regarding relevant content, products and special offers.
You also agree that your personal information may be transferred and processed in the United States, and that you have read and agree to the Terms of Use and the Privacy Policy.
SDN's future in the telecom space
On the Beyond the Bandwidth blog, author Jonathan Gearinger outlined his takeaways from this year's Light Reading Big Telecom Event. SDN was front and center at the event, with carriers looking to decrease OpEx and provision core network elements with SDN. Gearinger's key takeaway from the show is that openness matters -- proprietary platforms are having less of an impact in various networks, he writes, and the benefits of open standards are worth the extra effort they may require.
The partnership of SDN and network functions virtualization (NFV) was another important theme at the show, he wrote. NFV will have a huge impact on the telecom market, but it it'll need to be partnered with SDN to be successful, he wrote.
Check out Gearinger's post in its entirety, which examines SDN and the telecom industry.
Improved flow-based hashing with Cuckoo hashing
On this Ethereal Mind blog, author Greg Ferro looks at how to improve flow-based hashing to help provide better load-balancing methods over multiple IP or Ethernet connections. Ferro outlines the basic idea of Cuckoo hashing, and explains how he recently learned that Cuckoo hashing is the preferred method, writing that this is something he will add to his list of questions for SDN vendors who offer multi-path platforms.
Take a look at Ferro's post explaining Cuckoo hashing.
What is the Open Network Install Environment?
On his Peering Introvert blog, author Ethan Banks takes a look at the Open Network Install Environment (ONIE). Banks explains that ONIE is a network OS installer that's used by many whitebox switching vendors to load a network OS onto their switch. It's also, practically speaking, an OS based on Linux that boots on a switch, discovers network installer images, transfers images to the switch, and provides an environment so the installer can load the network OS onto the switch. Banks delves into why ONIE is important and what roles it has outside of whitebox switching. He outlines how ONIE works in a series of steps, and reveals whether or not folks can test ONIE without owning a compatible whitebox switch.
Read more from Banks on the Open Network Install Environment.
OpenFlow Conformance Testing Program turns one
The Open Networking Foundation celebrated the first birthday of its OpenFlow Conformance Testing Program on its blog site. In the post, the Foundation also announced the addition of two new testing labs that are ONF-accredited for testing compliance with the OpenFlow specification. As the Program grows, the Foundation said it will continue to employ the ONF's Testing Leadership Council to offer guidance on testing activities.
Check out the ONF's post in its entirety, celebrating the OpenFlow Conformance Testing Program.
Dig Deeper on Service provider SDN applications
PRO+
Content
Find more PRO+ content and other member only offers, here.