News
Stay informed about the latest enterprise technology news and product updates.
ONS tweetup April 26: Preview our ONS 2013 questions
Take a peek at our ONS tweetup questions and join us for an ONS 2013-themed tweetup April 26 at 12 p.m. EDT using the hashtag #SDNchat.
Looking for something else?
Editor's note: This event was originally scheduled for Friday, April 19, but due to events in Boston, it was postponed until Friday, April, 26.
@SearchSDN is hosting its first-ever tweetup this Friday, April 26 at 12 EDT. Using the hashtag #SDNChat, we'll be focusing on this week's Open Networking Summit and discussing trends that Shamus McGillicuddy, director of news and features, saw while attending ONS. Michelle McNickle, associate site editor for SearchSDN, will be hosting the tweetup from the @SearchSDN Twitter account.

Download this free guide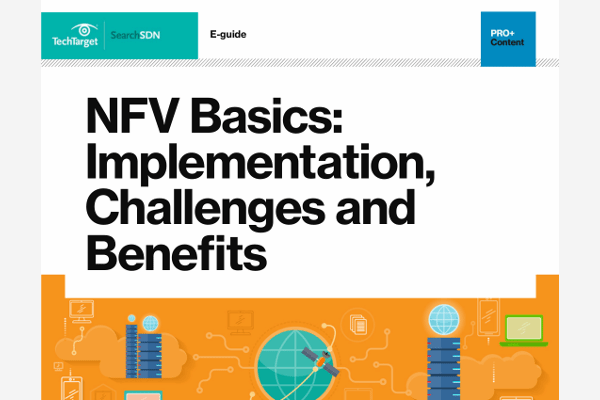 Download Our New NFV Essential Guide Collection Now
In this Essential Guide, we explore NFV implementation basics, potential benefits, current issues, and vendor approaches to the new technology. Get your copy now.
By submitting your personal information, you agree that TechTarget and its partners may contact you regarding relevant content, products and special offers.
You also agree that your personal information may be transferred and processed in the United States, and that you have read and agree to the Terms of Use and the Privacy Policy.
Curious what questions we'll be asking? Take a peek below to see the three tweetup questions we want to hear your thoughts on.
Join us Friday for the first @SearchSDN tweetup for your chance to be featured in an upcoming SearchSDN Overheard on Twitter. And don't forget to keep track of #SDNChat tweets by logging into Tweet Chat.
Q1: Is a network architecture truly SDN if it doesn't include separation of the data and control planes? Why or why not? #SDNChat
Q2: There's been lots of talk about moving OpenFlow from testing to production. Is OpenFlow SDN ready to scale? #SDNChat
Q3: Do you have examples of SDN washing? What can be done to limit the hype and focus on the technology? #SDNChat
Questions or concerns? Contact Michelle McNickle at mmcnickle@techtarget.com.
Dig Deeper on Network hardware and SDN
PRO+
Content
Find more PRO+ content and other member only offers, here.