News
Stay informed about the latest enterprise technology news and product updates.
Vint Cerf: At Google, OpenFlow now runs in all data center networks
At the Open Networking Summit, Google's Vint Cerf said the company re-engineered all of Google's internal data center networks to support OpenFlow.
FROM THE ESSENTIAL GUIDE:
SANTA CLARA, Calif. -- During his opening keynote address at the third annual Open Networking Summit on Tuesday, Google's Vint Cerf revealed that Google has re-engineered all of its internal data center networks to run OpenFlow-based software-defined networks.

Download this free guide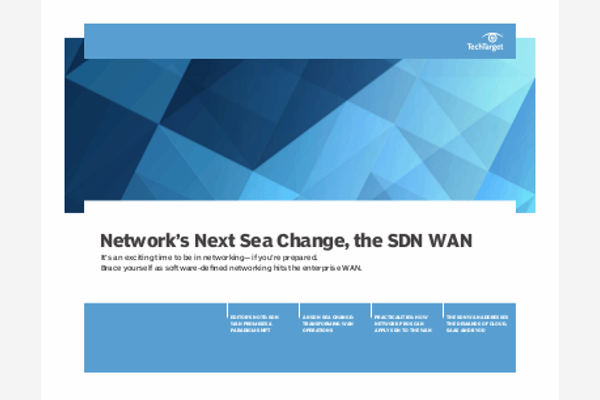 How SDN is Transforming WAN Operations: Free Handbook
Access our handbook now to navigate the waters of SDN in the WAN, with tips on overcoming implementation challenges, use cases for SD-WAN, and how to adjust to the altered network engineering career prospects that result.
By submitting your personal information, you agree that TechTarget and its partners may contact you regarding relevant content, products and special offers.
You also agree that your personal information may be transferred and processed in the United States, and that you have read and agree to the Terms of Use and the Privacy Policy.
Cerf, an Internet pioneer and Google's chief Internet evangelist, spent most of his presentation talking about software-defined networking (SDN) from a broader perspective, explaining how it can tackle unresolved technology challenges and deliver new applications and services.
He also discussed how the industry should proceed with this transformation: by focusing on interoperability and standards, by marketing SDN's added value rather than its protocols, and by designing loosely coupled systems so new SDN technologies aren't brittle.
In the middle of his presentation, however, Cerf veered into the latest developments of Google's OpenFlow strategy. Google is notoriously secretive about the hardware and software platforms it uses to power its services, but at last year's Open Networking Summit, it announced G-Scale, an OpenFlow-based backbone network interconnecting its data centers.
Cerf said Tuesday that Google's OpenFlow use has expanded into all of its data center networks, adding that the company was able to re-engineer these networks during a series of six- to nine-month implementations without disrupting any of its services.
Let us know what you think about the story; email: Shamus McGillicuddy, news director.
PRO+
Content
Find more PRO+ content and other member only offers, here.