Essential Guide
Essential Guide: Application-aware networking
A comprehensive collection of articles, videos and more, hand-picked by our editors
Ten essential network virtualization definitions
SDN has sparked discussion about what network virtualization truly is. Here are 10 key network virtualization definitions that explain the basics.
FROM THE ESSENTIAL GUIDE:
The emergence of software-defined networking has also sparked discourse among IT pros about the need for network virtualization. Yet in many ways, a singular network virtualization definition has yet to emerge.

Download this free guide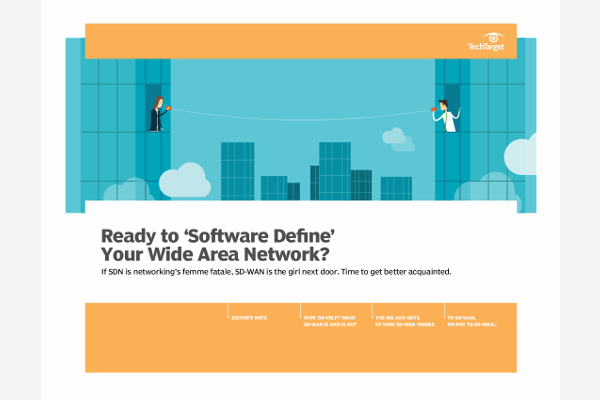 Just For You: Expert Handbook on SD-WAN
As network users' appetite for bandwidth continues to skyrocket, SD-WAN promises to revolutionize the wide area network to deliver better connectivity, reduced complexity, and lower costs. Learn more in our expert handbook.
By submitting your personal information, you agree that TechTarget and its partners may contact you regarding relevant content, products and special offers.
You also agree that your personal information may be transferred and processed in the United States, and that you have read and agree to the Terms of Use and the Privacy Policy.

In a recent interview with VMWare's Martin Casado, we learned SDN and network virtualization differ -- Casado likened SDN to a mechanism, while network virtualization is an application.
"SDN is relevant to system builders: I liken it to a way to build an engine," Casado said. "Someone building a car would use a new way of building an engine to build the car, but customers don't buy engines, they buy cars."
Here we've rounded up 10 key definitions to better explain the basics of network virtualization.
PRO+
Content
Find more PRO+ content and other member only offers, here.