Essential Guide
VMworld 2014 conference coverage
A comprehensive collection of articles, videos and more, hand-picked by our editors
software-defined networking (SDN)
Software-defined networking (SDN) is an approach to networking in which control is decoupled from the physical infrastructure, allowing network administrators to support a network fabric across multi-vendor equipment.
FROM THE ESSENTIAL GUIDE:
Making Networks Virtual: The Latest on SDN Technologies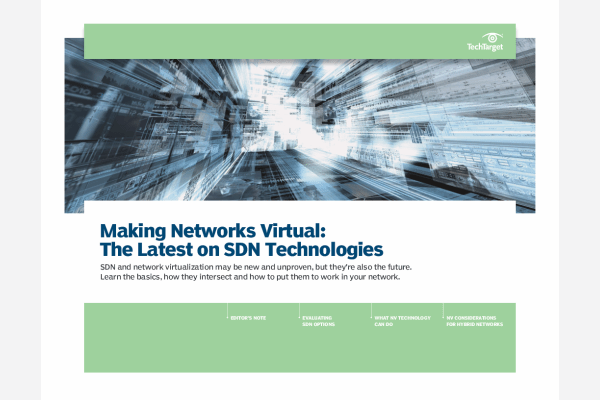 An exploration of Software-Defined Networking (SDN) technologies, network virtualization fundamentals, and the latest developments for both – helping IT pros adapt them to a modern hybrid network architecture.
By submitting your personal information, you agree to receive emails regarding relevant products and special offers from TechTarget and its partners. You also agree that your personal information may be transferred and processed in the United States, and that you have read and agree to the Terms of Use and the Privacy Policy.

Software-defined networking (SDN) is an umbrella term encompassing several kinds of network technology aimed at making the network as agile and flexible as the virtualized server and storage infrastructure of the modern data center. The goal of using an SDN architecture is to allow network engineers and administrators to respond quickly to changing business requirements. In a software-defined network, a network administrator can shape traffic from a centralized control console without having to touch individual switches, and can deliver services to wherever they are needed in the network, without regard to what specific devices a server or other device is connected to. The key technologies are functional separation, network virtualization and automation through programmability.
Originally, SDN focused solely on separation of the control plane of the network, which makes decisions about how packets should flow through the network from the data plane of the network, which actually moves packets from place to place. When a packet arrives at a switch in the network, rules built into the switch's proprietary firmware tell the switch where to forward the packet. The switch sends every packet going to the same destination along the same path -- and treats all the packets the exact same way. In a classic SDN deployment, rules for packet handling are sent to the switch from a controller, an application running on a server somewhere; switches (aka data plane devices) query the controller for guidance as needed, and provide it with information about traffic they are handling. Controllers and switches communicate via a controller's "south-bound" interface, usually a protocol called OpenFlow, although other protocols exist.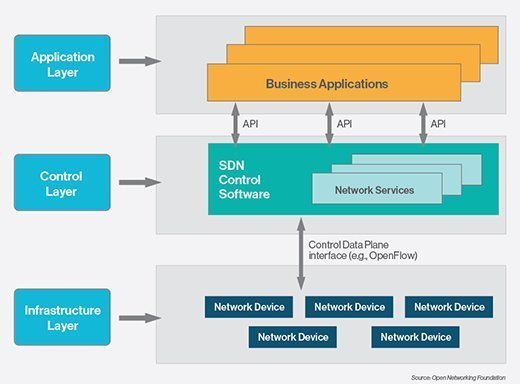 Where a conventional network would use a specialized appliance like a firewall or load balancer, a software-defined network deploys an application that uses the controller to manage data plane behavior. Applications talk to the controller via its "northbound" interface. As of the end of 2014, there was no formal standard for the application interface of the controller to match OpenFlow as a general southbound interface. The OpenDaylight controller's northbound API may emerge as a de facto standard over time, given its broad vendor support.
The administrator can change any network switch's rules when necessary -- prioritizing, deprioritizing or even blocking specific types of packets with a highly granular level of control. This is especially helpful in a cloud computing multi-tenant architecture because it allows the administrator to manage traffic loads in a flexible and more efficient manner. Essentially, this allows the administrator to use less expensive commodity switches and have more control over network traffic flow than ever before.
Continue Reading About software-defined networking (SDN)
PRO+
Content
Find more PRO+ content and other member only offers, here.
Margaret Rouse asks:

Is your company investigating the benefits of software-defined networking?