JNT Visual - Fotolia
Q
Evaluate
Weigh the pros and cons of technologies, products and projects you are considering.
How does a managed software-defined WAN service work?
Networking analyst John Burke explains managed software-defined WAN, and discusses why providers are starting to offer the service to their customers.
Looking for something else?
Managed wide area network (WAN) services are nothing new -- a customer pays a service provider a flat monthly subscription fee to install, monitor and maintain networking equipment (such as routers) at branch offices. Managed service contracts typically include service level agreements, guaranteeing that customers can expect a certain degree of performance and connectivity even in remote locations.

Download this free guide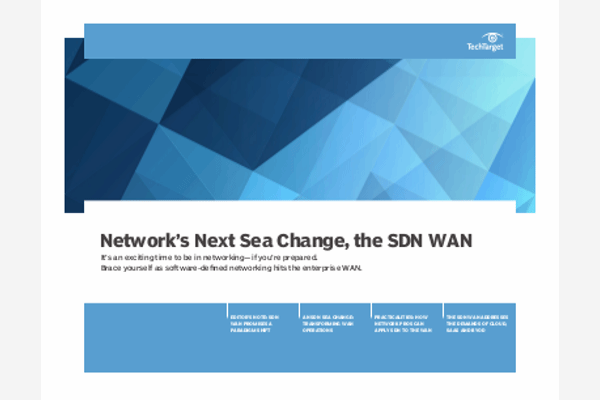 How SDN is Transforming WAN Operations: Free Handbook
Access our handbook now to navigate the waters of SDN in the WAN, with tips on overcoming implementation challenges, use cases for SD-WAN, and how to adjust to the altered network engineering career prospects that result.
By submitting your personal information, you agree that TechTarget and its partners may contact you regarding relevant content, products and special offers.
You also agree that your personal information may be transferred and processed in the United States, and that you have read and agree to the Terms of Use and the Privacy Policy.
Managed software-defined WAN (SD-WAN) services, however, are just beginning to emerge. On their own, SD-WAN technologies seek to bring the world of software-defined networking (SDN) to the edge of the WAN, with the same goals as SDN generally: decrease capital expense, decrease operating expense and increase agility and flexibility. SD-WAN also aims to make the WAN more service-centric, with traffic monitoring and management and a focus on application delivery. SD-WAN architecture can also support a control plane/data plane separation, seamless integration of WAN and branch networks into an end-to-end, policy-driven management framework, and the use of generic data-plane devices in the branch from the edge router inwards. SD-WAN seeks mainly to solve three key problems: secure integration of Internet links into well-managed WAN bandwidth pools; better align WAN architecture to network service needs; and simplify WAN management.
Cost reduction is the main driver in most organizations deploying software-defined WAN. WAN costs can be reduced by up to 90% by supplementing or replacing dedicated private WAN networks (usually MPLS) with commodity broadband connectivity.
Some carriers, like Verizon and Singtel, offer managed software-defined WAN services, freely incorporating Internet links for connectivity among internal sites. These services allow the enterprise all the flexibility and most of the cost savings of an SD-WAN environment, while minimizing the headache of managing the infrastructure and connectivity. Managed SD-WAN gives carriers a new approach to the WAN services space, recapturing business from enterprises otherwise capping, cutting back on, or simply fleeing their MPLS services.
PRO+
Content
Find more PRO+ content and other member only offers, here.
Our expert explains the difference between the OSI model vs. the TCP/IP model, and breaks down how the layers of the models relate to each other in ...continue reading
The rise of SD-WAN has many asking: Do we really need MPLS connectivity? Expert John Burke explains what factors to consider before renewing your ...continue reading
As SDN continues to gain traction, it's important that security keeps pace. Expert John Burke explains the role of the security operations center in ...continue reading
Have a question for an expert?
Please add a title for your question
Get answers from a TechTarget expert on whatever's puzzling you.