Essential Guide
Vendors take alternatives to OpenFlow SDN
A comprehensive collection of articles, videos and more, hand-picked by our editors
Q
Specialized SDN controllers: Are they necessary?
An SDN controller, with or without OpenFlow, is not required for a software-defined network, and SDN architecture vendors take different approaches.
FROM THE ESSENTIAL GUIDE:
Do I need a specialized SDN controller?
A specialized SDN controller, whether or not it uses the OpenFlow protocol, is not required to implement a software-defined network. A controller enables SDN functionality by allowing network users to "control" or modify network flows independently from physical network devices. SDN architectures are taking many different approaches, and technology vendors will have a unique take on how to implement SDN, particularly with using their own companies' product lines.

Download this free guide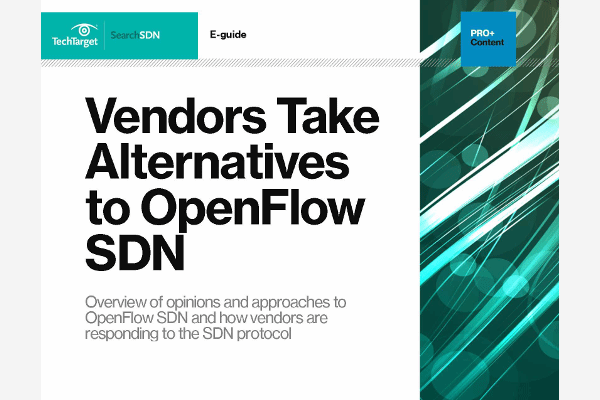 Download This Essential Guide on OpenFlow SDN Now
Get the articles of this essential guide in one downloadable e-guide, and learn about the alternate approaches to SDN and network programmability in a PDF that you can save and share with your colleagues.
By submitting your personal information, you agree that TechTarget and its partners may contact you regarding relevant content, products and special offers.
You also agree that your personal information may be transferred and processed in the United States, and that you have read and agree to the Terms of Use and the Privacy Policy.

In the OpenFlow community, for example, with standards developed by the Open Network Foundation, the answer is yes, most OpenFlow implementations will include an OpenFlow controller from providers that include Big Switch, HP, IBM, NEC, Dell and many others, or via open source software.
Other SDN options don't necessarily include a controller. VMware's Nicira acquisition, for example, will enable the company to implement SDN protocols in its vSwitch software, which does not require an OpenFlow controller. Cisco's SDN architecture, Open Network Environment, supports OpenFlow, but Cisco will not require an SDN controller, preferring to embed intelligence in its Ethernet switches and network management software. Similarly, Brocade supports OpenFlow, but does not require its use. Embrane provides a different example of SDN functionality that does not require OpenFlow or a controller. Embrane's Heleos platform provides Layer 4-7 software, including load balancers, firewalls, VPNs and WAN optimization. ADARA, Pertino and LineRate are additional examples of SDN startups that do not require OpenFlow or a controller.
PRO+
Content
Find more PRO+ content and other member only offers, here.
Expert Lee Doyle explains how software-defined networking enables network automation -- leading to lower costs, faster provisioning and better ...continue reading
Networking expert Lee Doyle explains how network architects can get started using software-defined networking technologies -- whether in the campus ...continue reading
SDN is making its way to the edge of the wide area network. But just what is SD-WAN, and who should consider it? Networking expert Lee Doyle explains.continue reading
Have a question for an expert?
Please add a title for your question
Get answers from a TechTarget expert on whatever's puzzling you.