Essential Guide
How modern infrastructure becomes part of a data center business plan
A comprehensive collection of articles, videos and more, hand-picked by our editors
Q
Get started
Bring yourself up to speed with our introductory content.
SDN, network virtualization: Are they the same?
Despite differences, SDN and network virtualization share common elements to direct network resources to VMs and segment or consolidate networks.
FROM THE ESSENTIAL GUIDE:
What's the difference between SDN and network virtualization?
Network virtualization allows IT managers to consolidate multiple physical networks, divide a network into multiple segments or create software-only networks between virtual machines (VMs). The goal of network virtualization is to improve speed, automation and network management by adding new software elements. It may or may not be programmable.

Download this free guide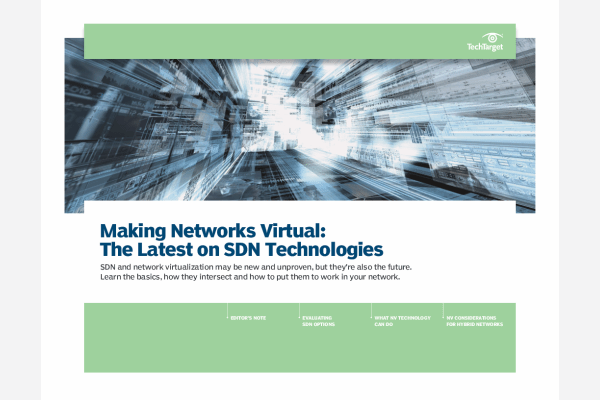 Download Now: Guide to SDN Technologies
This guide outlines differences in SDN architecture and design, how network virtualization can be used in existing networks, and how hybrid networks can contain both legacy equipment and SDN.
By submitting your personal information, you agree that TechTarget and its partners may contact you regarding relevant content, products and special offers.
You also agree that your personal information may be transferred and processed in the United States, and that you have read and agree to the Terms of Use and the Privacy Policy.

Virtual networks can be created in two ways -- inside or outside the server. External software uses switches, adapters and the network to aggregate physical local area networks (LANs) into a single logical LAN, or to break a physical LAN into multiple virtual LANs (VLANs). Internal software allows virtual machines (VMs) to exchange data on a host without an external network. Examples of network virtualization offerings include VMware vShield and vSphere switches and Cisco's Nexus 1000.
Software-defined networking is defined as a network with the two following elements:
Separation of control and data plane. The separation of the control and data planes means that the intelligence of the switch/router is split out from the packet-forwarding engine and placed in the control plane. This may be centralized or decentralized. The main advantage of centralization is ease of network programming.
Programmability. This term refers to the ability to improve network flexibility by linking the application to the network, including the ability to dynamically change traffic flows and provide application-level Quality of Service (QoS).
When you compare the SDN, network virtualization definitions, it's clear that network virtualization and SDN technologies share common elements, particularly the goal of improving the agility to direct appropriate network resources to VMs in data center environments and the ability to consolidate or segment networks. Whether network virtualization is a subset of SDN or SDN is a subset of network virtualization, the two have overlapping sets of technologies with similar goals.
PRO+
Content
Find more PRO+ content and other member only offers, here.
NFV automation is the ability to transfer manual network configuration to technology; NFV orchestration creates the deployment and automation ...continue reading
SD-WAN deployments can benefit a number of industries, providing improved performance and lower costs. Expert Lee Doyle looks at three of the top ...continue reading
NFV standards for orchestration are affected by the number of standards groups and service providers' individual approaches, says SDN expert Lee ...continue reading
Have a question for an expert?
Please add a title for your question
Get answers from a TechTarget expert on whatever's puzzling you.